SPW501 is a high performance, thermally broken polyamide aluminium framing system, ideal for high pedestrian uses and applications. With square cut joints for ease of fabrication the SPW501 door features a wide clip and plate flush glazed mullion section, with a narrower 58mm clip and flush mullion offered to provide additional design options. It is available in a range of configurations, including standard pivot and anti-finger trap doors.
Available Configurations:
Single & Double Leaf
Single & Double Action Pivot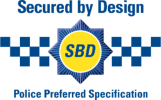 Differing door configurations produce different weather ratings.
Able to receive glazing up to 28mm thick depending on weight.
Integrates seamlessly with our SPW500 Shopfront.
Further Product Resources
SPW501 Door Datasheet
To include in your tender submissions
Download (PDF Document | 851 KB)
Brochure
Senior door brochure
Download (PDF Document | 4.3 MB)
Operations and Maintenance Manual
For window, door and curtain wall systems
Download (PDF Document | 788 KB)