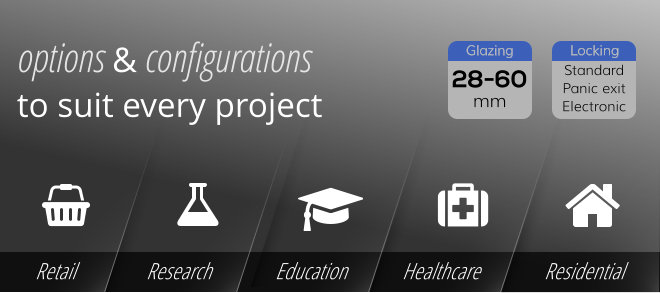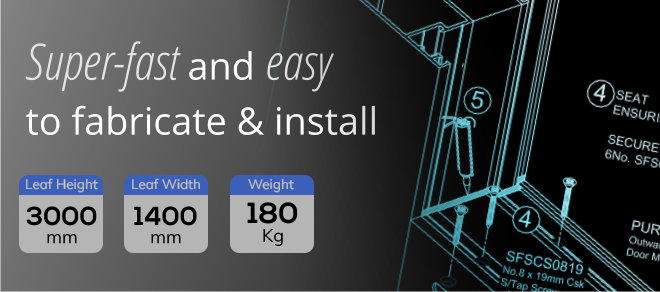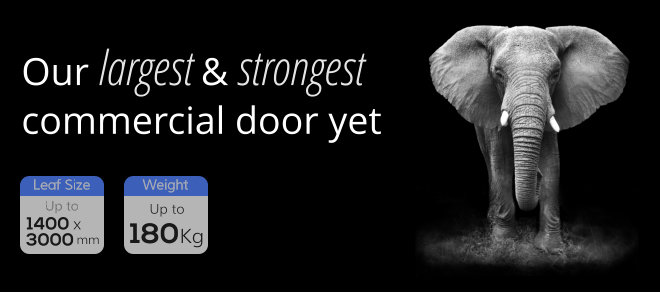 Our Biggest and Strongest Door Yet
Designed to perform up to a maximum leaf size of 1400mm x 3000mm and 180Kg PURe® Commercial Doors are our largest, heaviest and most robust doors. With our innovative patented PUR thermal break at their core they have impressive thermal efficiency together with U-Values as low as 0.94W/m2K when calculated as a CEN Standard door.
Available in standard, electronic locking and panic-exit versions, and with a host of options to suit every project they are ideal for both medium and high traffic areas in the education, healthcare, retail, business and residential sectors.
Available Configurations:
Single and double doors hinged open in or open out
Single and double push panic doors hinged open out
Rebated, non-rebated or floating mullion
Fully mitred or square cut bottom rail with wide door stile
Fully framed, low or rebated threshold
Electronic or manual locking
Outstanding Performance
Our largest, heaviest and strongest commercial door is built to last. Designed with security in mind and featuring an innovative patented PUR thermal break it is also our best performing commercial door. Keeping the weather out and the warmth in.
Thermal and acoustic efficiency
High performance polyurethane thermal barrier gives U-Values as low as 0.94W/m2K when calculated as a CEN Standard door.
Vastly exceeds the 3.5 W/m2K U value required for high use doors in high traffic areas
Able to receive double or triple glazing from 28- 60mm for maximum thermal and acoustic performance
Strength and security
Tested to BS6375 Part 2 Operation & Strength; BS6375 Part 3 Annex A
Tie rod available with square cut bottom rail for added strength
Steel hinges for durability and extra strength
Security tested to PAS24: 2016, security hardware required. Q-Mark fully certified
Choice of single or multipoint locks for added security
Weathertight
Weather tested to BS6375 Pt1. Please contact us for additional information
Rebated threshold and rebated meeting stiles on double doors available for improved weather performance
Clever Design
The PURe® commercial door has been brilliantly designed to meet multiple project requirements and make them exceptionally easy to fabricate and install.
Flexible
Double, single & push panic doors
Choice of thresholds including an accessible threshold designed to meet the requirements of Approved Document M
Choice of electronic, lever operated & key wind locks
Fully compliant anti finger trap option
Floating Mullion available on double doors for maximum entrance area
System depth of 75mm front to back
Choice of 90mm or 150mm midrails with letterbox option
Fast fabrication
Online technical manual with filters to select correct configuration and options
Two special punch tools available
Cleats are predrilled for shoots and colour coded for easy identification
All hardware is securely fixed into the aluminium profiles, not the thermal break, to avoid thermal bridging and provide a more secure fixing
Easy to install
Hinges have 3 way +/- 4mm adjustment
Doors can be factory-hung to save time on site.
Fully adjustable keeps for optimum compression
Stylish Aesthetics
Looks are as important as performance. That's why PURe® Commercial doors have been designed to always give a stunning first impression.
Stylish
Choice of mitred or square cut top and bottom rails
Panic door with flush meeting styles for a seamless look
Choice of colours and finishes
Available in an almost unlimited range of colours and finishes both inside and out
Handles, overhead door closer and anti-finger trap hardware can be colour matched
Stocked hardware
Modern sleek stainless-steel handles with ergonomic design, stocked in black, white or brushed silver
Overhead door closer fits all options and is stocked in silver
Further Product Resources
PURe Commercial Door Datasheet
To include in your tender submissions
Download (PDF Document | 145 KB)