Focus on London and the South East: A Dozen Stand Out Building Projects
As one of the big 5 fenestration systems houses in the UK, our products feature in buildings nationwide. Take a look at some of our favourite projects recently completed in London and the South East.
Whatever the sector, Senior have a superb range of energy efficient products to suit every project. From our popular SF52 curtain wall to our patented PURe® range of ultra energy efficient windows and doors and everything in between, you'll find innovative designs that focus on thermal efficiency, ease of fabrication and of course, aesthetics.
Mark Rossouw, our architectural advisor for London and the South East – who has recently been awarded an MSc in Façade Engineering – has worked hard to establish good relationships with architects and main contractors, whilst our National Specification Manager Andrew Cooper has secured supply chain agreements with some of the leading building contractors in the South East.
Together with John Ward, our technical Sales Manager for the South they form a winning team and the following projects, secured for Senior and our network of fabricators and installers, are the result of their hard work. If you would like to join our winning team of fabricators and installers please contact us
Sector: Education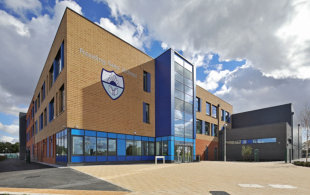 Reading Girls' School – Reading
Designed by Maber Architects, Reading Girls' School in Berkshire features Senior's patented low U-value PURe® aluminium casement windows throughout the two, three-storey high teaching blocks. Competitively priced compared to standard aluminium windows, the innovative PURe® system benefits from an enhanced thermal barrier manufactured from expanded polyurethane foam (PUR) and was able to achieve U-values lower than required by the project team.
In addition, thermally enhanced SF52 curtain walling was used to create the school's main entrance area and atrium. Built under the supply chain agreement between Interserve and Senior, Reading Girls' School is part of a wider scheme to create seven new secondary schools across Hertfordshire.
Sector: Education
Sector: Education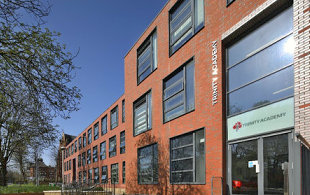 Brixton Hill Campus - Lambeth
Comprising three separate colleges, (Lambeth College, Trinity Academy and South Bank Engineering UTC) the new five-storey campus at Brixton Hill in Lambeth was subject to strict planning requirements due to its close proximity to the neighbouring Grade II Corpus Christi Church.
Designed by award-winning architects Jestico + Whiles for main contractor Bowmer & Kirkland, these new facilities covering 13,869sqm replace the original 1950s and 1960s buildings and feature Senior's patented PURe® windows throughout.
Sector: Education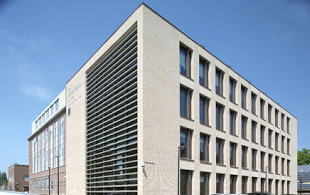 James Dyson Building - Cambridge
Funded by an £8 million donation from British inventor, designer and engineer James Dyson, this new hub for innovation and invention at the University of Cambridge's Department of Engineering was designed by Nicholas Hare Architects.
A key part of the building envelope is Senior's SF52 curtain wall system. The individual SF52 units were fabricated off site, and then craned into place fully glazed to reduce on-site time. This enabled main contractor Morgan Sindall (with whom Senior has an established trading agreement) to meet the tight completion deadlines.
Sector: Education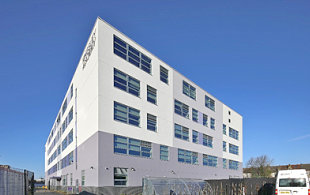 Kingsley Academy - Hounslow
Part of the Priority Schools Building Programme, Hillingdon and Hounslow batch, the 5-storey school constructed by Bowmer & Kirkland Ltd, incorporates Senior Architectural Systems' revolutionary and thermally advanced PURe® windows.
This helped contribute to major cost savings to the overall build by reducing the reliance on gas central heating. As well as improving the overall carbon calculations of the large scale 5-storey scheme, the specification of Senior's ultra-efficient PURe® window system also increased the design flexibility by enabling radiators to be moved away from their conventional positioning near the windows.
Sector: Education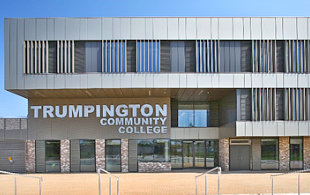 Trumpington College - Cambridge
Designed by Avanti Architects, the new school is based on the Danish school model, which encourages large open plan and unstructured teaching areas.
Built under the supply chain agreement between Morgan Sindall and Senior the college is positioned around a central atrium that maximises the flow of natural light. The L shaped building features Senior's thermally efficient SCW+ and SF52 curtain walling, SPW 300 aluminium tilt and turn windows, together with SPW501 aluminium commercial doors - ideal for high traffic environments.
To meet the school's sustainable design criteria, Senior's thermally efficient SF52 structural silicone glazed curtain walling system was installed to the entrances to the school and sports centre building and along the elevation that houses the kitchen and dining areas.
Sector: Residential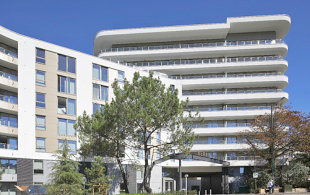 Berry Court – Bournemouth
Designed by Bright Space Architects, Berry Court reflects the art deco heritage of Bournemouth with clean horizontal banding and sweeping curves. A comprehensive fenestration package from Senior Architectural systems was specified, comprising thermally efficient SPW600e windows and PURe® sliding patio doors for the apartments, plus SF52 curtain walling and SPW501 commercial doors for the main building, and makes the most of the stunning views over both the town and out to sea.
Collaboration was an integral part of the creation of Berry Court. The development was delivered by Bournemouth Development Company, a joint venture between Bournemouth Borough Council and Morgan Sindall with whom Senior has an established trading agreement.
Sector: Residential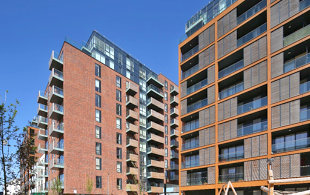 Merchant Walk Devons Road – London E3
Comprising a mixture of affordable residential apartments and commercial accommodation, the Merchant Walk scheme has been developed by Peabody Housing Association alongside main contractor Galliford Try, with whom Senior has an established trading agreement.
With energy efficiency a key requirement, Senior's thermally efficient SF52 curtain wall and SPW600e windows were the ideal choice and perfectly complement the scheme's attractive façade of brick and feature timber clad balconies.
Sector: Residential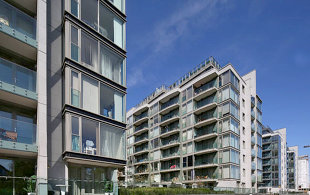 The Pavilions, Hale Village - Tottenham N17
Forming a key part of the wider regeneration of Hale Village, the Pavilions comprises high specification, luxury waterside apartments that have been developed by Bellway Homes.
With sustainable design being a prime consideration, RMA and PKA Architects specified energy-efficient PURe® windows to offer residents spectacular views across London as well as providing some of the lowest U-values available. Senior's innovative PURe® windows have also had a positive effect on reducing the overall carbon calculations of the building.
Sector: Residential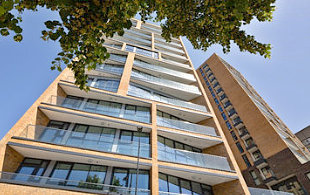 Wembley West One - Brent
This mixed-use development constructed by Formation Group PLC boasts 186 apartments, 15 commercial units, a basement car park and podium rooftop gardens for residents. Designed by Delta Architects the project consists of five residential blocks of varying heights adding interest to the skyline and offering far reaching views of Wembley Stadium and beyond.
The fenestration package worth over £3 million included Senior's SPW600 Windows, SPW600 Commercial Doors and SF52 Curtain Walling.
Sector: Leisure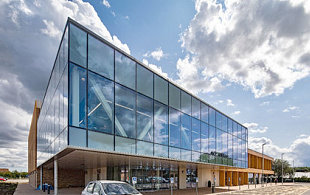 The Bridge - Horsham
Senior have worked with leading architects GT3 on several projects in the sports and leisure sector including the Bridge Leisure Centre in Horsham and Slough Ice Rink (see below).
The design specified Senior's high-performance SF52 system for the £12.2m project for Horsham District Council, delivered by main contractor Neilcott construction group. SF52 is our most flexible aluminium curtain wall system, designed to give specifiers a host of aesthetic options for every application, whilst making fabrication incredibly easy.
Sector: Leisure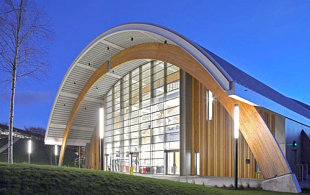 Slough Ice arena - Slough
The £12.7 Million project to extend and renew the existing Slough Ice arena was completed by main contractor Morgan Sindall with whom Senior has an established trading agreement. The project involved stripping back the existing arena to the original steel and completely rebuilding it with a 1000m2 extension. A stunning design for the entrance by
GT3 architects features three wooden glulam beam arches, with Senior's slim profile SF52 aluminium curtain wall used to create the glazed frontage and provide a striking contrast to the attractive timber cladding. With slim sightline and outstanding thermal efficiency, the SF52 curtain wall makes a big impression both aesthetically and in performance. Seniors SPW501 aluminium commercial doors, and thermally broken SPW600 aluminium windows were also specified throughout the new facility.
Sector: Commercial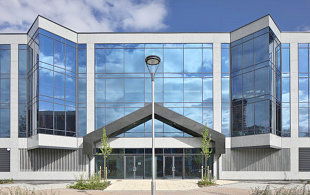 The Point, Greenwich London SE10
The Point is a three-storey, bespoke built, powered shell data centre on the Isle of Dogs. The modern design by ARC-MC Architects reflects the high-tech nature of the commercial services on offer.
Senior's SF52 curtain wall was chosen for the striking building envelope of this landmark facility in the heart of London's docklands. The sleek slim line aluminium frames perfectly complement the granite cladding to create a stunning glazed façade.
However, the main benefit of using Senior's SF52 curtain wall is the system's enhanced thermal efficiency. With Data Halls filled with technical equipment which require a controlled environment for optimum performance, it was important to choose a glazing system that could help to reduce energy usage.