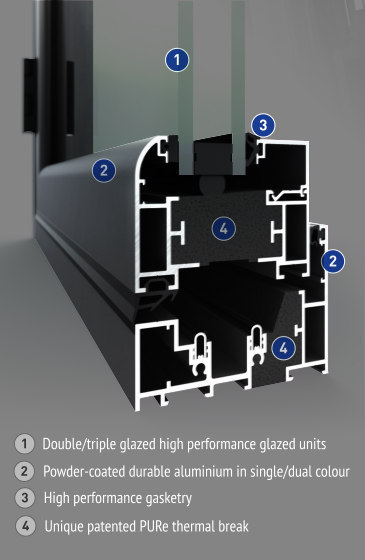 PURe® GENIUS
Patented* PURe® innovation to future-proof your building
The PURe® aluminium range incorporates high insulation polyurethane foam (PUR) as an innovative thermal barrier - preventing the cold from getting in and the heat from getting out.
Already used for many years in the construction industry to provide insulation, PUR is fully recyclable, safe to handle and gives ultra-high thermal performance.
This ground-breaking patented* use of PUR as a thermal barrier means that PURe® aluminium doors and windows exceed current and will meet future Building Regulations.
In fact, U-values as low as 0.71 W/m2K for PURe® windows and 0.93 W/m2K for PURe® doors can be achieved, when calculated as a commercial CEN standard.
Easy to manufacture using existing tooling, the PURe® door range is the new, simple way to achieve unbeatable thermal performance with infinite design options.
PURe® provides a simple and cost effective way to future-proof your building.
*UK Patent Number GB252363.8
PURe® Performance
PURe® Peace of Mind
PURe® Choice
PURe® Design
PURe® Value Engineering
PURe® Simplicity