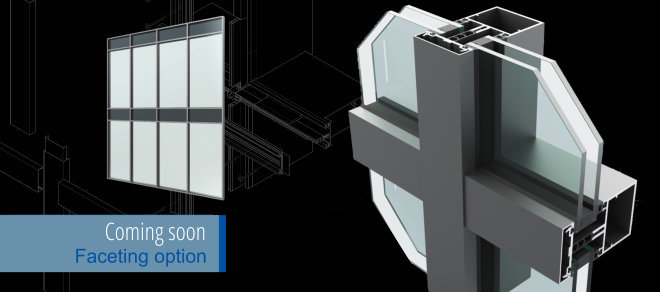 The SF62 Aluminium Curtain Wall System is very similar in design to our popular SF52 system, but has a wider 62mm box which allows more flexibility in accommodating structural movement.
This makes it ideal for ultra-high-rise projects and those where structural movement is a challenge on the project.
The increased rebate size means that it is possible to provide either additional clearance between the section and infill, so that the system is able to allow the glass to move more if there is structural movement, or greater edge cover for issues such as guarding.
At the same time, SF62 offers enhanced thermal performance which exceeds current building regulations. The system has been rigorously tested for safety, weather, impact, and transom loads up to 750kg giving you peace of mind for every application.
The SF62 system will be extruded to order for projects where glass movement would be too great using our SF52 curtain wall system. Please contact your nearest Architectural Adviser for advice on product suitability, calculations and NBS or bespoke specifications, plus latest lead times.
Thermal Performance
Due to the variety of profiles, mullion spacings, glass and panel specifications on each project; a specific U-value calculation will be required. Please contact our Technical Department or Architectural Advisors.
Glazing
12mm – 52mm (depending on configuration) to allow for different infill types (glass, panel, trespa)
For thicker options please consult our technical department
Weather Rating
CWCT Sequence B
| | |
| --- | --- |
| Air Permeability | 600Pa |
| Water Tightness | 600Pa |
| Wind Resistance | 2400Pa |
| Safety | 3600Pa |
EN13830:2003
| | |
| --- | --- |
| Air Permeability | 600Pa |
| Water Tightness | 600Pa |
| Wind Resistance | 2400Pa |
| Safety | 3600Pa |
Section Sizes
Transoms from 80mm to 250mm (80, 100, 125, 150, 175, 200, 225, 250)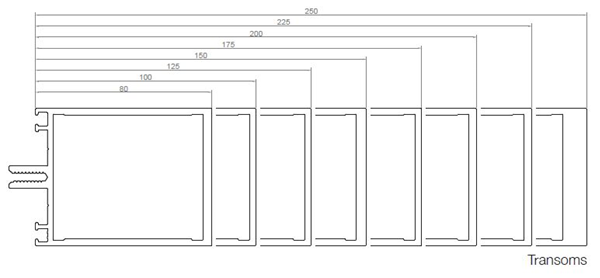 Mullions from 72mm to 242mm (72, 92, 117, 142, 167, 192, 217, 242)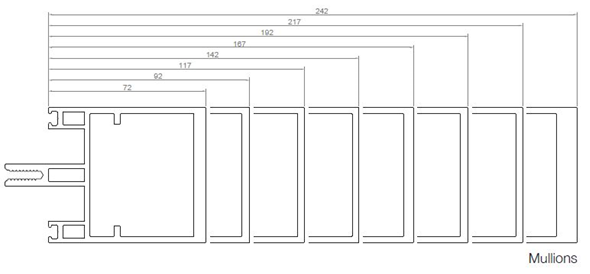 Construction
SF62 is a stick type front loaded system using spring pins or a shear block (depending on the connection type and infill weight required) and a lap cut transom.
The system is mullion drained and can be fully capped, fully silicone glazed (using the SAS toggles) or a combination of the two using either horizontal or vertical capping.
All internal gaskets are designed to mate with injection moulded corner pieces which are sealed at joints.
Large range of transom & mullion sizes with reinforcing sleeves, steel and back boxes available to strengthen mullions and achieve longer spans.
Improved thermal break to accommodate for movement and allow for variations in glass tolerance.
Punch tools and jigs are available for easy manufacture.
Fully compatible with any of our windows (including frameless vents) plus both manual and automated doors.
Available in an almost unlimited choice of colours and finishes both externally and internally.
Environmental
Senior Architectural Systems is fully compliant with BS EN ISO 6001, BS EN ISO 9001, BS EN ISO 14001and OHSAS 18001 standards.
SF62 curtain wall system when used on projects involved in a BREEAM assessment, or within the Code for a Sustainable Built Environment and the Code for Sustainable Homes (which therefore involves the Green Guide to specification) can offer significant benefits.