It's been seven years since we were awarded a UK patent for our low U-value PURe® aluminium window and door system and in that time, the industry has seen many changes. A new milestone is also on the horizon when the new changes to Part L of the Building Regulations become mandatory for all new buildings on 15th June 2023. In our latest blog, we look back at how our award-winning innovation has been helping our customers future-proof their projects.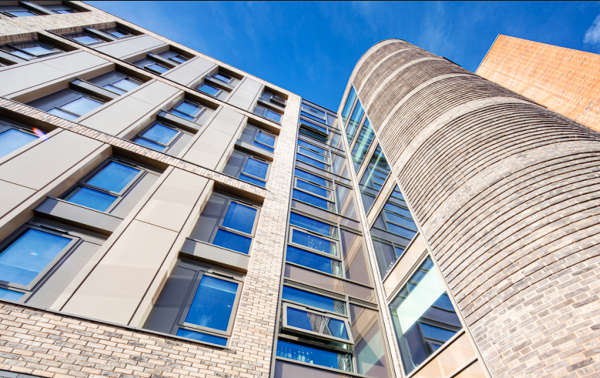 Saving energy

Although we received our patent in 2016, we first unveiled our PURe® windows system a year before and its development had been years in the making. We knew that we needed to offer our customers a solution that would reduce heat loss to meet the current regulations but would also exceed them. In doing this, we were well ahead of the curve in terms of meeting the lower U-value requirements that were brought in with the 2022 updates to Part L of the Building Regulations. A transition period has been in place, whereby any planned buildings didn't have to comply to the new lower targets providing work commenced before 15th June 2023 – but the approaching deadline means that Part L compliance is mandatory for all and our PURe® system has been a game changer. As well as offering our customers an easy route to compliance, we have also been able to give them the reassurance of using a tried and tested product that had already been successfully installed on various projects across the sectors.

Offering design flexibility

The low U-value and thermal efficiency of our PURe® aluminium system is without doubt its most impressive feature but we appreciate that achieving low U-values is only half the battle to creating fenestration designs that stand the test of time. Like all our products, the intrinsic strength and durability of aluminium means that our systems require little or no maintenance and the aluminium frames are also strong enough to support larger spans of glazing to offer narrower sightlines. As no project is the same, and with design flexibility a key requirement for our architectural partners, we soon applied the same patented PURe® technology to other window styles and developed a complementary suite of door options. Our full PURe® range now includes five different windows styles and three door options – PURe® SLIDE, PURe® FOLD and the PURe® Commercial Door.

Reducing embodied carbon

We've not just ticked the box by creating our PURe® system – we've been thinking outside of it! Its unique construction makes it the only aluminium window on the UK market to feature a thermal barrier made from PUR polyurethane foam. It is also designed, developed, and manufactured right here in the UK and reducing the embodied carbon across the full process has been a major priority for us. We've done this by investing in our own in-house facilities, including the opening of our new Thermal Improvement Centre in Rotherham which is dedicated to the production of our PURe® system and the other Part L compliant products within our wider range, such as our slimline Ali Vu system. To support the sustainability of our aluminium frame, the complete PURe® system, including the PUR thermal barrier, can be recycled and reused with no requirement for landfill.

Providing the golden thread of information

When we developed our PURe® system we ensured that it met all the necessary requirements and we can provide our customers with detailed information about the testing procedures as well as practical guidance about how it should be installed. With the 'golden thread of information' an important process in promoting best practice across the construction industry, we are committed to doing our part in providing traceable and transparent information about how our products are manufactured and tested. Our PURe® aluminium system has been tested to the relevant UK and European Standards for shear strength, air permeability, water tightness and wind resistance as well as rigorous thermal testing. This has led to achieving a generic Green Guide rating of A for use in commercial projects, with the potential to achieve U-values as low as 0.73 W/m2K when calculated as a commercial CEN standard window.

As well as achieving compliance with Part L of the Building Regulations, the PUR thermal barrier is a non-toxic, non-flammable material which has a Class O fire rating and will not give off any Volatile Organic Compounds (VOCs) when in use.

Meeting the demands of the commercial market

As the UK's largest privately owned manufacturer of aluminium fenestration systems in the UK, we like to think big – which is why we created the PURe® Commercial Door back in 2019. This is our largest and strongest door to date and has been specifically developed to meet the needs of the commercial sector. Designed to accommodate a maximum leaf size of 14000mm x 3000mm and 180kg, our super strong, heavy, and robust PURe® Commercial Door also offers exceptional thermal-efficiency.

Supporting our fabricators in the residential sector

With many of our fabricator partners working in the residential sector, we were keen to provide a PURe® solution just for them. This is one of our more recent innovations, and we have partnered with Hallmark Doors and Panels to create the revolutionary PURe® residential front door. Designed with the domestic user in mind, the latest addition to our door range looks great and can help save energy by preventing heat loss. Find out more here.

Keeping security in sight

As well as keeping the heat in, our doors and windows have been designed to keep intruders out. Our PURe® windows, PURe® SLIDE and PURe® FOLD aluminium doors are fully accredited by the Secured By Design scheme, making them the perfect fit for residential schemes. Both our PURe® Commercial Door and our new residential PURe® front door have both also been fully tested to meet the security requirements of PAS 24.

We're proud that our PURe® range has not only proved to be a popular choice with architects, contractors, fabricators, and installers alike, but that it has also helped us secure a King's Award for Enterprise for innovation. To discover more about our PURe® range, please visit our product page and to read all about our award win, please click here.