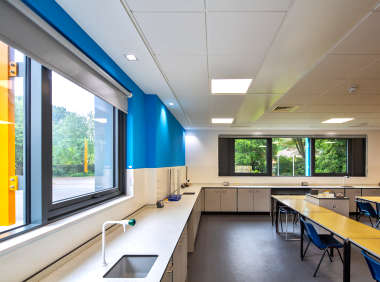 The Government's ambitious plans to rebuild and modernise schools across the country, coupled with the need to make all facilities COVID-secure, present numerous challenges but thanks to Senior Architectural Systems, specifiers can take a new view on window designs and layouts.
Having already been installed on various education projects across the UK, Senior's patented low U-value PURe® aluminium window system offers exceptional thermal performance and enables greater choice in the positioning of radiators. By preventing cold air from entering the room, the use of the PURe® system means radiators can be moved from their conventional position underneath the window to free up valuable floor and wall space and provide greater flexibility in terms of arranging furniture and planning interior layouts.
Senior's patented PURe® window system is the first on the UK market to benefit from an enhanced thermal barrier manufactured from expanded polyurethane (PUR) foam and can achieve U-values as low as 0.71 when calculated as a commercial CEN standard window. As well as helping to contribute to lower energy bills and reduced carbon calculations, the PURe® aluminium system has also become a popular choice in the education market thanks to its robust and durable construction which offers a cost-effective alternative to using energy efficient triple-glazing which, when used in a high-traffic environment such as a school, has a higher risk of breaking and would be more expensive to replace.
With adequate ventilation and daylight essential within school environments to help maintain the health and wellbeing of both staff and students, Senior's slim frame PURe® aluminium window system is available in a range of styles, sizes and configurations to suit both new and refurbished buildings, including classic casement, tilt and turn and reversible overswing for easy cleaning. The PURe® parallel push window can also be used to great practical and aesthetic effect when incorporated into Senior's aluminium curtain wall systems. With hinges on all sides of the frame, this type of window can be easily pushed open and yet will remain parallel to the wall, helping to reduce the risk of falls or trapped fingers whilst offering effective ventilation. Aesthetically, the use of push parallel style windows can also help to create a more uniform façade.
Senior's PURe® aluminium windows are fully compatible with the manufacturer's aluminium curtain wall systems and also complement the PURe® door range, which includes both folding and sliding aluminium door styles as well as the high-performance PURe® Commercial Door.