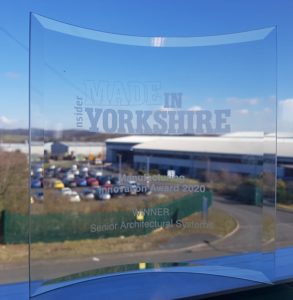 Leading aluminium fenestration solutions provider Senior Architectural Systems has taken home a top regional manufacturing award in recognition of its patented PURe® range of thermally-efficient aluminium windows and doors.
Senior was named the winner of the Manufacturing Innovation category at the 2020 Made in Yorkshire awards, which are organised by regional business media company Insider Media Ltd. Senior impressed the judges with the development of its pioneering PURe® system and the implementation of various sustainable manufacturing techniques. As the first fenestration system on the UK market to incorporate a thermal barrier manufactured from expanded polyurethane (PUR) foam, a material more commonly used in insulation and cladding products, Senior's innovative PURe® aluminium windows and doors offer enhanced thermal efficiency and exceptionally low U-values.
The Made in Yorkshire awards, which are now in their 8th year, celebrate the county's varied manufacturing industry and the regional companies that are enjoying success on both a national and global scale. With its roots in South Yorkshire, Senior has grown to become the UK's largest privately owned fenestration systems manufacturer and a preferred supplier to many of the biggest names in the construction industry.
Commenting on the award, Senior's marketing manager Jonny Greenstreet said: "Embracing innovation in both the development and manufacture of our products has been instrumental in our success to date and will continue to be a key part of our business going forward. We're very proud of PURe® and it's great to be able to say that as well as being patented, our system is also award-winning!"
Since the launch of the first PURe® aluminium window, Senior's range has gone from strength to strength and now includes various window designs as well as both patio style and commercial doors. The system has also been widely specified, enjoying particular success in the education and private rental sectors as well as the domestic market and as it is both easy to fabricate and install, offers a cost-effective solution to reducing carbon calculations and energy bills.