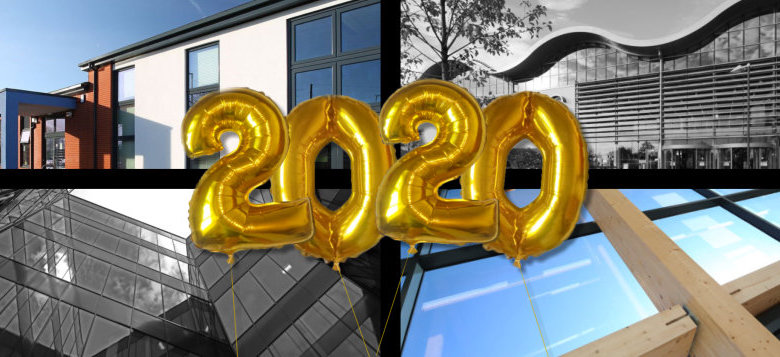 As the 2nd decade of the 2nd millennium comes to a close we take a look back at the challenges and highlights for the construction industry over the last decade and try to predict the main opportunities for the next.
Crash and burn
The twenty tens have been a time of great upheaval for the construction industry. It all started with the crash of 2008 following the collapse of Lehman Brothers, which plunged the global economy into a recession. Investment became scarce, tender prices tumbled, projects were canned, margins were squeezed, companies collapsed and thousands of people lost their jobs.
Rising from the ashes
For those that survived the initial onslaught, the last 10 years have been dominated by austerity measures and belt tightening. Many construction companies became more disciplined in terms of debt, but not all, Carillion being a prime example. The result is a leaner, better managed, more collaborative and hopefully more stable sector which has been better able to withstand the uncertainty surrounding BREXIT.
Collaboration gives improved outcomes
Take education for example. When the Building Schools for the Future (BSF) programme was cancelled by the incoming coalition government in 2010, it was a body blow for firms who had previously benefitted from the multi-billion-pound scheme to build and refurbish UK schools. But a drastic rethink has led to repeatable, tried and tested simple designs for new schools which are cost effective to build with low maintenance and running costs.
Firms like Willmott Dixon and Bowmer and Kirkland have developed a much more collaborative approach with both customers and suppliers, including Senior, which has led to cost efficiencies, better use of tax payers' money, smarter ways of working including use of BIM, specification of more energy efficient products and improved outcomes all round. Key to this has been the development of Senior's innovative patented PURe® range of ultra -thermally efficient windows and doors which Bowmer & Kirkland have endorsed for use in the many schools that they deliver each year.
Innovate to accumulate
For Senior Architectural System, the way to beat the crash of 2008 was through Research and Development. Whilst the recession meant upheaval for the construction industry as a whole, Senior concentrated on making the most of new opportunities ahead. The decision to invest heavily in innovative new products and ways of working was taken as the second decade of the new millennium dawned and the company hasn't looked back since:
UK's largest –

by 2013, this investment saw the company become the UK's largest privately-owned fenestration systems company (as measured by turnover).

Innovative new patented products

– in 2015 R&D paid off big time with the launch of the patented PURe® window and door system, which features an innovative thermal break able to achieve exceptionally low U values for outstanding thermal efficiency.

Collaborative approach and supply chain agreements –

2015 also saw the company establish a nationwide specification team of architectural advisers, whose collaborative approach resonated with the industry. They established supply chain agreements with several of the leading building contractors in the UK, which brought in substantial amounts of new work for our network of fabricators and installers.

Taking the domestic market by storm –

as the UK's construction sector emerged from its technical recession in October 2017 Senior launched a new cost effective and easy to fabricate range of aluminium domestic windows and doors, opening up new markets for the company.

Exceptional growth

– the proof of the pudding is in the eating. From £19 Million in 2010, Senior's turnover has more than doubled and the company is now on course to achieve its target of £40 Million as the decade comes to a close.
Roaring into the 2020s
All this has placed Senior in an extremely strong position as we enter the 2020s both to take advantage of the opportunities ahead and to overcome future challenges.
In the words of David Bowie 'Tomorrow belongs to those who can hear it coming', so here are our predictions for the construction industry over the next decade
Climate change will lead to new Building Regulations
In fact, the narrative has moved on from 'climate change' to 'climate emergency' as the devastating consequences of the earth's rising temperatures become ever more apparent. With the Conservatives re-elected for at least a further 5 years they will have to work hard to achieve their target of reaching Net Zero by 2050. It will mean investment in clean energy solutions and green infrastructure to reduce carbon emissions and pollution. It is widely anticipated that Building Regulations will be tightened so that carbon neutral buildings become the norm rather than the exception. With fenestration being a major and increasingly important part of the building envelope, specification of ultra- thermally efficient products like Senior's PURe® range of windows and doors is expected to increase significantly.
The Skills Shortage will have to be addressed
Following the 2008 recession unemployment increased rapidly so that by the end of 2011 almost 2.7 million people were looking for work. It's estimated that around a fifth of construction workers lost their jobs, never to return to the industry. Even though GDP had returned to pre-recession levels by 2014, talk of BREXIT following the referendum in 2016 meant that the number of EU workers entering the UK construction sector began to fall. No wonder that there is now a skills shortage in construction. At Senior we are determined to address this problem and at the end of 2019 opened our own purpose-built academy to provide free hands on training courses and CPD (Continuous Personal Development) seminars in the fabrication, installation and specification of our fenestration products. More training courses are now being developed to equip those in the construction industry for the years ahead.
Greater Government spending will open up new opportunities in the public sector
The Conservatives promised an end to austerity and pledged billions for hospital projects across England, including a £2.7 billion investment for 6 new hospitals over 5 years. Whilst there's been some scepticism over the Tory's claim of 40 new hospitals over 10 years, the fact that the government plans to invest in new public sector buildings in good news for the construction industry. The winners will be those companies who can work with their supply chain partners to provide the most cost-effective solutions. Our team of Architectural Advisors already have extensive experience of helping our customers to win bids in the education and health sectors and are ready, able and willing to work with construction companies tendering for new public sector projects.
Housebuilding will grow – albeit slowly
The Government has a target of building 300,00 new homes each year by the mid-2020s that's an increase on the current rate of housebuilding of 213,660 new homes per year. To do this it plans to overhaul the planning system and invest in modern methods of construction. To help our fabricators take advantage of any upturn in housebuilding and to help them win renovation work, we will be launching a new cost-effective slimline aluminium patio door range early in 2020.
BREXIT will happen – eventually
With the Conservatives back in the driving seat with a large majority, it now looks inevitable that they will "Get BREXIT done." It may not happen by their planned date, and sorting out the trade deals is likely to take a lot longer than anyone thinks, but businesses need to be prepared for whatever might come their way. The predictions vary widely from a world of new opportunities as we set up new trade deals, to lower growth, lower investment and worse public finances. The truth probably lies somewhere in between. As the UK's largest privately owned fenestration company, with all our work carried out in the UK and having put in place a secure supply of aluminium from both within and outside the EU, we are well placed to deal with any fallout from BREXIT.
The 2020s may not roar as loudly as the 1920s with its surging economy, new technologies and Jazz-Age flappers, but with our planned investment in new products and ways of working we stand ready to be the architects of the future, not its victims.
We would like to thank all our customers for their support over the last decade and look forward to working with friends old and new to make the most of the exciting opportunities ahead as we roar into the 2020s.