After 27 years of providing high quality aluminium windows & doors for commercial projects, Senior Architectural Systems is now poised to take a significant share of the domestic market.
A story of PURe® success.
It all started back in 2016 when we launched our innovative PURe® range of aluminium windows and doors. With energy prices rising, the PURe® range quickly became popular in the residential market, thanks to the outstanding energy efficiency of the system's patented thermal break. The durability, low maintenance and stylish slim sightlines of aluminium frames were also a hit with homeowners.
Designs for a domestic range
To capitalise on this new and growing domestic market for Senior's aluminium window and door systems, our R&D team developed more products aimed squarely at the homeowner. First the Aluminium Series 2 flush casement window – arguably the slimmest aluminium flush casement window on the market, followed closely by Ali FOLD doors with narrow sightline and matching single and double doors. Lastly our Ali VU super slimline window was launched early in 2018, with sightlines of just 38mm for fixed lights and 66mm for vents. A stepped face option means that Ali VU is also perfect as a modern, energy efficient replacement for heritage steel windows.
Senior's Domestic Aluminium Range
PURe® windows – casement, tilt/turn, overswing
PURe® FOLD doors – single, double, folding sliding
PURe® SLIDE doors – inline slide, lift & slide, Heavy duty lift & slide, single/double/triple tracks
Aluminium Series 2 window – casement top or side hung
Ali FOLD doors – single, double, sliding folding, low threshold, floating mullion
Ali VU window – casement, ovolo frame casement
Fabricators first
We have always sold our commercial products to fabricators and that will be the same for our residential range. Whilst our domestic range is designed for homeowners, just as importantly the range has also been designed to be exceptionally easy to fabricate, maintain and install. Saving time and money for both fabricators and installers.
Taking on the competition
Senior's new domestic aluminium range of windows and doors now provides a credible and value for money alternative to the major players in the market.
But what distinguished Senior from our competitors has always been our outstanding customer service. To make sure that the same is true in the domestic world, we have invested heavily in new machinery to increase production capacity, a new fleet of vehicles to ensure on-time delivery and a new warehouse to stock large quantities of our domestic products to ensure short lead times.
In addition, we offer fabricators full training and tooling, technical and marketing support and ongoing help and advice from our nationwide team of technical sales managers and architectural advisors.
Trading up
Many of our commercial fabricators are now also fabricating products from our domestic range both for homeowners and larger residential contracts. Now to take a bigger slice of the domestic market Senior are actively recruiting trade fabricators to make and supply windows to domestic installers.
Quick quotes
To speed up quotes for new trade customers fabricating our domestic range, we offer a simplified and personalised version of LogiKal software called LogiKal Lite. It is available with a reduced monthly rental of just £150 for 1 licence and £200 for 2 licences, making LogiKal affordable for any business, and includes the following systems.
Ali VU
Ali FOLD
PURe® Casement
PURe® FOLD
PURe® SLIDE
Aluminium Series 2
Positive feedback
The first trade fabricators and installers are already on board and their feedback on both our marketing support and domestic product range is very positive:
"Thanks for the help this weekend, (at Selfbuild Live in Dublin) it was much appreciated, and I think well worthwhile. I have 75 credible retail leads form the show which I will pass on to my trade customers closest to the leads. I also talked to a further 6 companies who are now interested in taking PURe® lift & slide / bi-fold doors from me. On top of that we shifted 180 PURe® door brochures & 120 PURe® casement brochures. Not bad for a 2-day show!!"
Gary Givans, Dungannon Window Company Ltd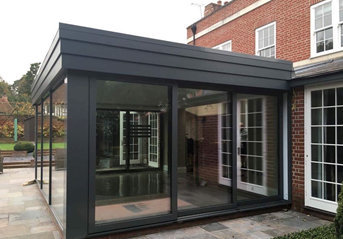 "Thought I would send across some completed photos of a project in Dedham for your interest. Client is very happy with the job and I have now started to open the PURe® windows, sliding and folding systems up as a very viable option to my client base. We have already had a lot of interest from a couple of architects on the domestic side. Will hopefully have more orders for you in the future. "
Charles Burt, Contracts Manager, Advocate AG
"PURe® Fold door installed. Looks good. Lads put the Bi Fold door in the other day and their comments were 'it was a dream of a door in every way'. That's saying something coming from my lads! "
Charles Burt, Contracts Manager, Advocate AG
Feedback tweets from Monmouthshire windows: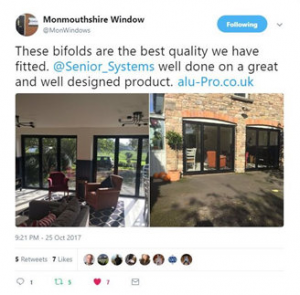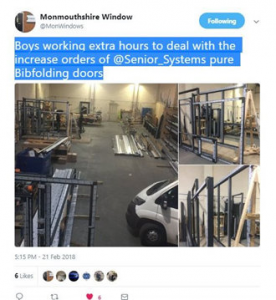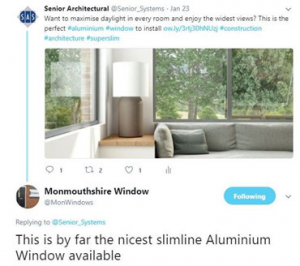 Sign up now!
If you would like to join our network of trade fabricators and installers, please call 01709 772600.
With the Government target of building 300,000 new homes per year to address the housing crisis and Theresa May today pledging to rewrite the rule book in terms of planning, to intervene if councils do not meet new national housing targets, and to release more public-sector land, there's never been a better time to add Senior's domestic range to your portfolio of products.