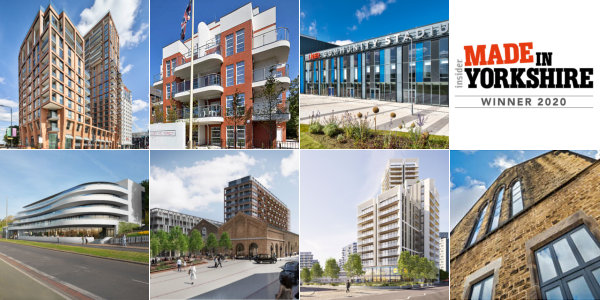 2020 - what a year. No doubt many of us would like to lock away 2020 and throw away the key. But before we open up 2021, we've taken a look back at the events of 2020 and amidst the pandemic have found lots of positives and much to be grateful for:
Reasons to be Cheerful
Part 1 Products and Projects
New products and product developments
Our technical team continued to work from home throughout lockdown and were able to add new products and product enhancements to our innovative range:
Ali SLIDE door
a stylish mid-range slimline aluminium sliding door with a maximum door height of 2700mm and an interlock of just 50mm, for maximum daylight and uninterrupted views.
New Ali VU window options
a french casement window, greater thermal enhancement options and a more flexible multiframe now give our fabricators and their customers even more choice.
Horizontal and Vertical Capped SF62 curtain wall
joining the fully capped and silicone glazed options, the horizontal and vertical capped SF62 curtain wall systems give increased design flexibility for ultra-high-rise projects and those where structural movement is a challenge on the project.
Completed Projects
Whilst many construction sites closed during the first lockdown, some remained open and Senior continued to supply fenestration systems to allow projects to be completed. This included work on seven vital new hospitals. As all other fenestration systems houses closed at this time our products were in high demand and as a result, we gained many new customers. Once lockdown ended and construction companies returned to work many of these new customers stayed with us and used our products on new projects nationwide. Here are some of our favourite 2020 projects:
Part 2 People and Positive Thinking
People
We have an amazing workforce. They have gone out of their way to make sure that we have been able to continue to offer excellent customers service throughout the pandemic. We are very proud of how our staff have adapted and very grateful for their hard work, ingenuity and understanding during what has been an exceptionally difficult year for everyone.
As for many companies, COVID has had a significant effect on the way we operate. Many of our staff have had to work from home and as orders were affected by lockdown, we had to reorganise to focus our efforts where they were most needed. We set up new ways of helping customers who remained open during lockdown and supported those who closed during lockdown once they returned to work. Here are just a few of the things we have initiated in 2020 to help both customers and staff get through the pandemic:
Upskilling
whilst some of our staff were furloughed during lockdown, they made the most of their time by completing extra training courses to give themselves even more skills once they returned to work. This included on-line courses in CAD Design and an MSc in Façade Engineering for Mark Rossouw Architectural Advisor for the SE and London.
On-line training
in January we launched our new purpose-built training academy for fabricators and installers. The training on offer combined both theoretical and practical elements supported by GQA Qualifications. However, as COVID restrictions came into force we had to take our training on-line. Using our new academy training facility, we are now able to offer remote training and support in a fabrication setting using video conferencing technology. We are also able to provide full remote LogiKal support using Microsoft Teams. This includes everything from demonstrating the software for customers who do not yet use LogiKal, showing customers how to install LogiKal software, and providing training on how to get the most out of the software.
Positive thinking
to help keep the outlook positive we launched our #positiveview social media hashtag, encouraging customers to post views from their windows as they worked from home. And as schools shut, we ran a design-a-den competition to keep children entertained at home. We had some fantastic entries with the winners each receiving an iPad.
Mental Health
we are very aware of the effect that the worry, stress and uncertainty caused by the pandemic can have on mental health. So, we used our blog posts to give tips on how to stay sane when working from home and how to look after your health and wellbeing.
Part 3 Agile working and Awards
Agile working and Awards
One of the most positive things to come out of 2020 has been the realisation that we are a very agile company able to quickly adapt to any situation. Here are just a few of the things that have led to 2020 being a successful year for Senior despite the pandemic:
COVID Secure
we quickly altered our practices and procedures allowing us to obtain our Covid-19 secure certificate early on in the pandemic. This involved taking extra precautions to maintain high-levels of cleanliness and hygiene across all of our facilities, spacing out work stations and installing perspex screens to separate workers, introducing a one-way system, installing hand sanitisers at key touch points and introducing shift working to allow less people in the factory at any one time.
Strong supply chain
one of the problems that all manufacturers experienced was difficulty in obtaining supplies after the lockdown ended. Our team worked round the clock with our suppliers to allow us to get back to full stock levels within weeks of the lockdown ending.
Made in Yorkshire Awards
in March we were delighted to be named the winner of the Manufacturing Innovation category at the 2020 Made in Yorkshire awards. The judges were impressed with the development of our pioneering PURe® system and the implementation of various sustainable manufacturing techniques.
Opening up 2021
With the recent approval of the first COVID vaccine by the MRHA and a return to normality coming nearer every day, we enter 2021 full of hope for the future. We already have plans in place and excellent early signs that 2021 will be a good year for both Senior and our customers:
30th Anniversary
In 2021 we celebrate our 30th anniversary. Since the company was founded in 1991, we have seen massive growth. This is all thanks to our individualistic customer service and the development of an exciting product range including the innovative patented PURe® Aluminium System which offers exceptionally low U values. Now with a turnover of around £40 million, we are one of the top systems houses in the UK.
UK's new Start – we're ready to go!
As the transition period after leaving the EU comes to an end on 31st December, we are looking forward to grasping the opportunities that this new era will bring. As a UK based privately owned company we are in the very fortunate position of manufacturing and testing all our fenestration systems in the UK. This gives us an advantage over our European competitors who may face delays at ports when importing their systems into the UK. They may also need to retest their products to UK standards to comply with the new UKCA (UK Conformity Assessed) mark and British Standards.
Healthy order books
Because our specification team work closely with architects and main contractors, we already know that we have a strong and steady pipeline of new projects well into 2021. This is good news for our fabricators. Here are some of the exciting projects already secured for 2021:
Clifftown Shore in Southend on Sea
a high quality development of 51 apartments with fantastic sea views and large terraces as well a new destination restaurant and cocktail bar.
This stunning design will feature SF52 curtain wall, PURe® Tilt/Turn Windows, PURe® SLIDE doors, SPW501 and PURe® Commercial Doors.
Royal Arsenal Building 10, Woolwich SE18
with 10 storeys of apartments and 3,215 square metres of shops, the renovated building 10 at the historic Royal Arsenal site in Woolwich will feature both Senior's curved and standard SF52 Curtain Walling.
Minavil House, Alperton, London HA0
this 27-storey 110m tall building will accommodate new homes, office, café and supermarket space. Senior will supply all the ground floor curtain wall and the entire supermarket glazing package
Product Development
We already have an extensive range of products to suit every application. But we are always eager to improve our range still further. For starters, in 2021 we plan to add faceting options to our SF62 Curtain wall as well as making improvements to our domestic door offering and our SPW tilt turn window system. And there will be more product developments coming later in the year.
Climate Change Agreement
Sustainability is a priority at Senior. We've already introduced lots of measures to reduce our impact on the planet, make the best use of the world's finite resources and protect our environment. For 2021 we've taken that a stage further and signed up to the Government's climate change agreement. This means that we are committed to reducing our energy usage by 8% every year until 2025.
Thank you to all our customers for your support in 2020. We wish you a very Happy Christmas and a prosperous New Year.