Whether you're planning a complete refurbishment, or just decorating your box room, if you're looking to update your home in 2019, here are the latest colour trends to give you inspiration.
At Senior we closely monitor the latest colour trends to make sure that our aluminium windows and doors fit perfectly into the latest colour schemes. And because all our domestic windows and doors are available in the full range of RAL colours it's easy for us to give customers their dream colour. We've also put together our very own "Signature Colour Collection" with an exciting range of colours and textures to complement the colour trends for 2019:
Optimistic and joyful 'Living Coral'
Pantone, the go-to people for colour standards, have chosen the vibrant yet mellow Living Coral, as their colour of the year 2019.
So how do they do it? Well it's a bit more complicated than sticking a pin in a colour chart. The experts at the Pantone Colour Institute search the world for new colour influences. They look at everything from films, art, fashion, design, travel, sport and even social media platforms to find the emerging colour trends.
The fact that Living Coral came out on top might suggest that there's a feeling of optimism throughout the world, or could it just be that we want to cheer ourselves up and add some warmth and joy to brighten up the brave new world of Brexit?
Whatever the reason it's quite a change from Ultra Violet which was Pantone's Colour of the year in 2018 according to Pantone a "dramatically provocative and thoughtful purple shade".
Influencing home colour trends
But the real point of highlighting Pantone's colour of the year is that it influences product development and purchasing decisions in many industries, including home furnishings, paint and colour schemes.
It would be a brave person who painted their lounge, or the outside of their house in Living Coral, unless of course they live in Tobermory!
Which is no doubt why Dulux have toned it down to make 'Spiced Honey' their colour of the year. According to Dulux this warm amber shade has been chosen "to reflect a new mood of positivity and optimism – a desire to 'let the light in'." Around this Dulux have created 4 colour palettes with a mood and style to suit everyone.
Make it your own
Of course, everyone has their own favourites when it comes to colour. So, although 2019 colour trends may influence your decision, it's good to be able to put your own stamp on the colour scheme you choose for your home.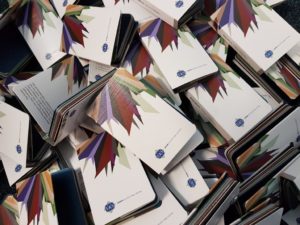 That's why we've introduced the Signature Colour Range for our aluminium windows and doors, giving homeowners a choice of 14 stunning colours to make the most of 2019's colour trends. If you like Dulux's 'Spiced Honey' the signature range offers you 3 toning colours:
Toffee Pecan – a wonderfully rich chocolate brown
Ayres Rock – a joyful mid brown with undertones of living coral
Indian Sandstone – a warm neutral to add a touch of class
And remember that all our windows are available in dual colour, with a different colour on the exterior and interior, all are low maintenance (no need for yearly painting) extremely durable and come with a 25-year paint finish guarantee.
To find out more about our Signature Colour Collection and our stunning range of high-quality energy efficient windows and doors, please contact you nearest Technical Sales Manager.

*Photo by Richard Szwejkowski, some rights reserved.