…and what it means for fabricators and installers.
Move over PVC-U; Aluminium windows and doors are taking over! That's what all the latest market research into the residential sector reveals. We look at the latest predictions for the growth of aluminium and what this means for domestic window and door fabricators and installers
King of Commercial
Aluminium has long dominated the commercial sector, accounting for over 80% of frame material (based on installed value) in 2014, compared to only 6% for PVC-U.1 Even more impressive, growth rates for Aluminium frames in the same year were over twice that of PVC-U, with a forecast of a 22% growth in aluminium glazing sales by 2019 to £2.7 Billion.
The reason for aluminium's popularity in the commercial sector is its strength, flexibility, durability, and recyclability. This means that lightweight slim frames can hold large pieces of glass securely in place, giving maximum daylight and the widest views. Ideal for the larger windows doors and curtain walling seen in offices, colleges, hospitals, shops and car showrooms etc. Powder coating means minimal maintenance whilst durability gives a 40+ year life expectancy, after which the aluminium frame is 100% recyclable.
Domestic Rising Star
It's been a complete role reversal in the housing market, with over 80% of windows and 50% of entrance doors being PVC-U in 2015, compared to only 6% for aluminium window frames and 20% for aluminium entrance doors. Reasons given for choosing PVC-U in the past have been mainly centred around cost and thermal efficiency.
But all that is changing! With technological advances, aluminium windows and doors can now achieve comparable energy rating to plastic windows. With their slimmer sightlines, elegant looks, lower maintenance and greater durability, aluminium windows and doors win hands down on aesthetics and long-term value for money. Add to that their quality, plus safety and security features and it's no wonder that the tide is turning.
In fact, growth rate forecasts predict that Aluminium will be the new kid on the domestic block. According to the Palmer Report2, by 2020 the number of aluminium window frames will have risen by 3%, whilst the number of PVC-U frames will have dropped by 5%. And when it comes to entrance doors the predictions are even more striking; an amazing 27% growth in aluminium doors compared to a plummeting 32% drop for PVC-U.
Bring on the Bifolds
One area where aluminium is already way out in front is bifold doors. In 2015 almost 60% of bifold doors in Great Britain were made of aluminium compared to only 27% made using PVC-U. Patio doors are a growth area in the domestic housing market, due to the ongoing trend for family rooms with garden access to bring the outside in and ramp up the daylight internally. Overall patio door installations are forecast to grow significantly by 2020, sliding doors by 5%, hinged doors by 10% and bifold doors by a whopping 44%!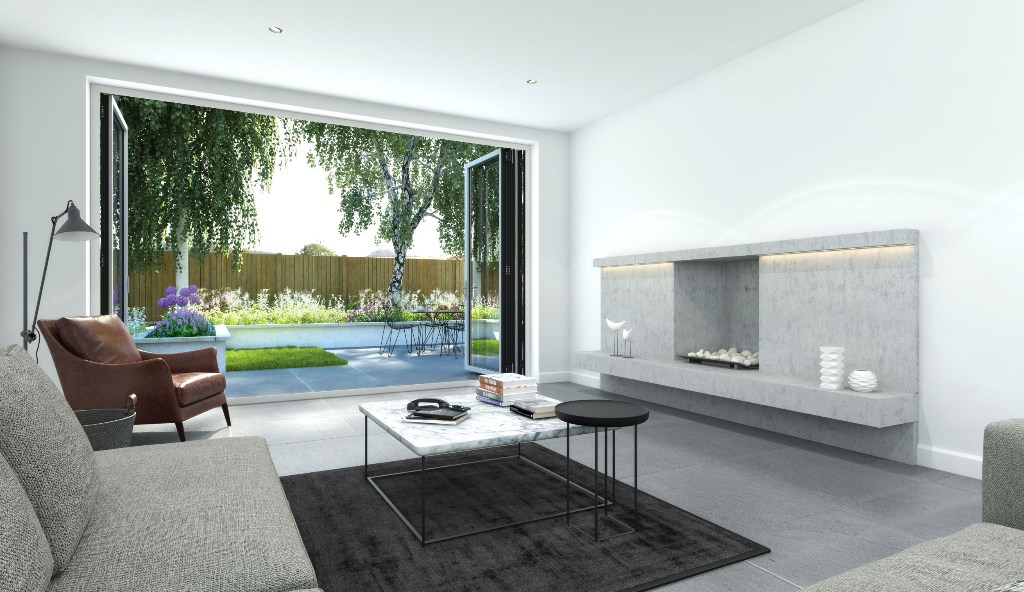 Fabricators and Installers Get Ready!
So, what does all this mean for fabricators and installers? Well for the commercial market it's clear that an aluminium system should be your glazing system of choice.
For the domestic market, it's a little more complex. Many fabricators and installers only offer PVC-U windows and doors, but it's becoming increasingly important for fabricators and installers to also offer aluminium products.
Here's why. According to the latest (2017) Insight Data Fabricator and Installer Report3, the number of PVC-U window and door fabricators is declining, down 8% on 2014. And it's no wonder that many PVC-U only fabricators have gone out of business – you only need to look at the number of google searches for "PVC Windows" and "PVC Doors" vs Aluminium Windows" and "Aluminium Doors" to see what homeowners want.
Most PVC Fabricators now offer Aluminium Systems
With the increase in competition most PVC-U fabricators now offer alternative systems to make sure they're not missing out on work, to improve customer loyalty and to increase overall margins. Most commonly PVC-U fabricators now also offer aluminium products, but a small number also manufacture timber frames.
Almost half of Installers now fit Aluminium Systems
It's a similar story for installers. Although the number of PVC window and door installers has remained fairly constant since 2014, there has been a massive 40% increase in firms who offer aluminium products. Of the 13,281 window and door installers in 2017, almost half (6,353) now offer aluminium and the trend is expected to continue.
Choose the right aluminium window and door systems
With so many aluminium windows and doors on the market, making sure that you choose the right one to offer to your customers is very important. You should look for:
High quality products from a trusted systems supplier
In-house powder coating for a guaranteed finish and an extensive choice of colours
Fabulous aesthetics with super slim sightlines to maximise daylight and give the widest views
A variety of design options to offer customers more choice
A range of patio doors which must include a bifolding option
Excellent thermal performance with an A or A+ Energy Rating
Fully tested products for weathertightness and strength
Windows and doors with enhanced security fully tested to PAS24:2016
Products that are easy to fabricate, install and adjust
In addition, make sure your aluminium systems supplier has a good customer service record and holds sufficient stock levels to guarantee short lead times. In these days of BREXIT uncertainty, it also pays to choose a UK based, privately-owned systems supplier who is therefore not influenced, by wider demands and influences of foreign ownership and inter-company currency issues.
Fortunately, Senior Architectural Systems passes with flying colours on all counts. If you would like to know more about Fabricating or Installing our range of stunning high-quality, aluminium windows and doors with exceptional thermal efficiency, please contact your nearest technical sales manager.
References:
Palmer Market Research 'The Commercial Glazing Market in Great Britain' 2015 Edition
Palmer Market Research 'The Window, Door and Conservatory Markets in Housing in Great Britain' 2016 Edition
https://www.insightdata.co.uk/news/insight-data-publishes-2017-window-industry-report/