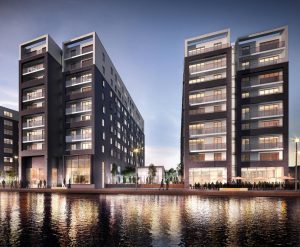 Senior Architectural Systems has secured its largest order to date for its thermally efficient PURe® aluminium window system after being selected by main contractor John Sisk & Son and fabricator Elite Aluminium Systems to deliver the full fenestration package as part of a £1.8m contract for a major new residential scheme in Manchester.
Senior's patented PURe® aluminium windows, which offer some of the lowest U-values available on the UK market, will become a key feature of developer Manchester Life's latest phase of 302 new rental homes on New Union Street.
The contract is not only the largest order of PURe® windows to date but is also Senior's latest project to be secured with main contractor John Sisk & Son after the two companies established a supplier agreement in February 2016.
After receiving the initial specification for the project, the team at Elite Aluminium Systems recommended the use of PURe® after demonstrating that unlike alternative products, the aluminium system could provide exceptionally low U-values at a competitive cost. Quality and reliability could also be assured through the use of Senior's advanced in-house powder coating facility and standard 25 year warranty on all coatings.
Commenting, Mark Longmore, general manager at Elite Aluminium Systems Ltd said: "Having already installed Senior's new PURe® system on a number of schools in the south of England for main contractor Interserve, we are thrilled to be working with Senior again on this new prestigious contract. Manchester Life's plans for New Union Street are very impressive and we're proud to be involved in what is set to be valuable addition to Manchester's skyline and an important project within the wider regeneration of the local area."
Senior's patented PURE® aluminium window system is the first on the UK market to benefit from an enhanced thermal barrier manufactured from expanded polyurethane foam (PUR). Traditionally used in cladding and insulation products, the innovative use of PUR as a thermal barrier in windows and doors gives the PURe® range the potential to achieve U-values as low as 0.71W/m2 K when calculated as a commercial CEN standard window and 0.93W/m2 K when calculated as a CEN standard door.