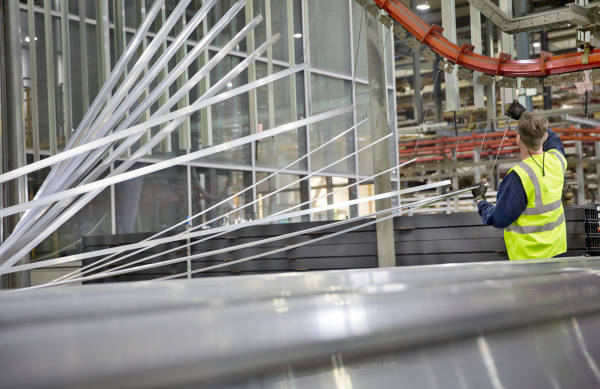 From the end of the Cold War to the introduction of the 'World Wide Web' internet browser, 1991 was a notable year for many reasons but for Senior Architectural Systems, it marked the beginning of a successful journey to become the UK's largest privately owned aluminium fenestration systems house.
This year, the company is celebrating its 30th anniversary of successful trading and its growth from humble beginnings back in Bradford in the early 1990s, to today's strong standing at the forefront of the aluminium fenestration industry with three branches across the UK.
As well as growing in size and turnover, Senior has also invested heavily in the research and development of its product range to offer some of the most advanced aluminium window, door and curtain wall systems available. A pinnacle moment for the company came with the launch of the market-leading PURe® system which has the potential to achieve exceptionally low U-values and was awarded a UK patent in 2016. Senior has also grown its range of in-house services, including its own state of the art powder coating facility, and continues to embrace sustainable manufacturing techniques at its main manufacturing premises in Denaby, South Yorkshire.
Senior's extensive product range, customer-service focus and the autonomous flexibility that has remained a key part of its identity as a UK-based and privately-owned systems house, have all helped the company stand out from its competitors over the last 30 years and remain key to its future growth.
Commenting, Senior's managing director Mark Wadsworth said:
Like other companies that have been around since the early nineties, we have seen it all – recessions, booms, regulatory changes, our own MBO back in 2018, Brexit and even a global pandemic. We've been fortunate to have not only survived but to have thrived over the last 30 years, but we wouldn't have been able to achieve any of this without the support of both our customers and our colleagues. We have a number of exciting developments in the pipeline and we are excited to continue our journey alongside our great team and supply chain partners.
With a strong standing in the commercial sector, Senior has worked on a number of high-profile projects and has developed a particular expertise in delivering low U-value and low maintenance aluminium windows and doors to both the private residential and student accommodation market. The company's versatile and slimline SF52 aluminium curtain wall, which was launched in 2015, has also become the company's most popular and widely specified system and features on a number of buildings, including the new striking Danum Gallery, Library and Museum in Doncaster which is located just a few miles away from Senior's HQ in Denaby.
Senior has also embarked on several framework agreements with main contractors, resulting in numerous repeat-business contracts in both the education and health sectors. Most recently, Senior received a supply chain award from main contractor Morgan Sindall in recognition of its commitment to offering a consistently high and reliable level of service and support. Over the last few years, Senior has also been heavily involved in the delivery of numerous Education Funding Agency (EFA) framework contracts, working closely with B&K to supply its thermally-efficient PURe® window system to schools across the country.
Building on its success in the commercial market, in 2017, Senior enhanced its domestic market offering with the launch of the Ali FOLD patio door that was soon supported by the development of an Ali VU, a stylish slimline aluminium windows system and Ali SLIDE patio door option.
Senior's managing director Mark Wadsworth adds:
As a key supplier to the construction industry, Senior remained operational throughout the recent national lockdowns and we have emerged in a strong position to continue to develop our product range and service offering to meet future challenges. From putting procedures in place to reduce any potential disruption caused by Brexit to increasing capacity to meet demand and 'future-proofing' our already market-leading PURe® windows and doors to comply with the pending changes to Part L of the Building Regulations, over the last 30 years we've constantly evolved and we're ready to take on whatever opportunities or challenges the future may hold.