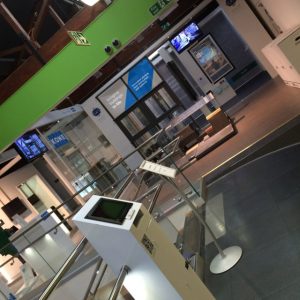 As the manufacturer of some of the most innovative aluminium glazing solutions in the UK, Senior Architectural Systems has invested in the redevelopment of its product showcase stand at The Building Centre to give visitors a more inspirational and interactive experience.
Located in central London, The Building Centre is a non-profit organisation dedicated to promoting innovation in the built environment and features a large exhibition area where leading manufacturers such as Senior showcase a selection of market-leading products.
Offering a comprehensive range of aluminium fenestration systems, Senior's stand has been updated to include new displays of its latest products including the patented PURe® range of thermally-efficient low U-value windows and doors and the popular slim line SF52 curtain wall system, as well as examples from Senior's established timber and aluminium composite Hybrid range.
Moving away from the traditional use of printed literature, Senior's new-look stand also enables specifiers access to all the company's latest product information with just the touch of a button, thanks to the development of a dedicated app and the installation of an interactive tablet display.  Designed to be easy to navigate, the app provides full details of Senior's full product range and allows users to quickly request product samples, a call back from the company's dedicated architectural advisory team and additional product information.
Commenting, Senior's marketing manager Jonny Greenstreet said: "Senior has enjoyed a long-standing presence at The Building Centre and it has proved to be a fantastic way to showcase our product offering to architects and specifiers.  By refreshing our stand to include our most recent innovations as well as some of our more established products, we hope visitors will get a good feel for the diverse range of high performance solutions we offer.  The development of our new interactive app will make it quicker and easier to find out more about our technical support services and request product samples or a follow up appointment.  We're really pleased with the fresh design and look forward to hearing what our clients think!"