Timber or Aluminium?
Now you can have both with our innovative high insulation composite Hybrid Systems.
Aluminium on the exterior for durability and low maintenance, engineered timber on the interior for a natural look and feel.
The perfect blend of practicality and aesthetics across a full range of windows, doors and curtain walling, provide a sustainable solution for today's modern buildings.

Made in the UK | Reduced Lead Times
Developed and manufactured in the UK, the standard spruce version is available ex-stock reducing lead times.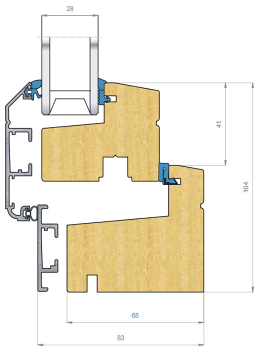 Sustainable
Made from 100% recyclable aluminium and a choice of responsibly sourced engineered spruce or oak.
Stunning
Hybrid Systems have been used to stunning effect, winning the prestigious architectural design innovation award in 2013.
Choice, quality and delivery
Alu Wood doors and windows can transform a building. But imagine how a timber composite curtain wall could enhance the façade. Our Hybrid range is the only UK timber composite fenestration range to include curtain walling.
Short Lead Times
Time means money. With our own in-house powder coating facilities and glazed-unit manufacturing, we provide the complete fenestration package, removing any uncertainty in the supply chain. Together with our fleet of eco-vehicles this enables us to deliver an industry leading turnaround on both aluminium and timber profiles.
A full range including Curtain Walling
Hybrid curtain walling is a traditional stick, compartmentally drained system available in a wide variety of design alternatives. Even better Hybrid curtain walling is fully compatible with our extensive range of windows & doors, giving a seamless flush façade.
Options
Timber available in contemporary spruce and traditional oak
Complete range of fenestration products – windows, doors, patio, folding/sliding door
Integrated curtain wall systems – 80mm, 120mm, 160mm, 220mm, 300mm range of transom/mullions
Able to supply alternative sizes for specific projects.
Available in a huge range of colours and finishes
Quality Guaranteed
Our composite Hybrid range is manufactured using only the highest quality materials with superior recyclability which are sourced responsibly from reputable suppliers. Fully tested in the UK to make sure the entire range gives maximum performance and has an extended life cycle, our timber/aluminium windows doors and curtain wall conform to current building regulation and in many cases exceed them.
Guarantees
PEFC certified timber
External aluminium guaranteed for 25 years
CWCT certified curtain wall
Marine quality PPC available
Doors and windows PAS 24 certified ensuring enhanced security
Weather tested to BS 6375-1:2009 to cope with UK climate
ISO9001, 14001, 18001 registered company
The UK Alternative to European imports
Launched in 2008, Hybrid is the only timber composite designed, developed and manufactured in the UK. Designed especially for the UK market and with nationwide fabricators, we really can deliver the products you want with the lead times you need.
British Design for the UK Market
Our team of designers have developed a range of windows, doors and curtain walling specifically aimed at the UK market. Not only do they have all the features to cope with the British weather, but they also have a very British look and feel. The range is being constantly updated and enhanced to meet new UK building regulations and design trends. We can even design bespoke profiles for special one-off projects.
Hybrid Design Features
Engineered timber for strength and stability with no twist or shakes.
Outstanding U values
Composite curtain wall achieves excellent acoustic values with no hollow box resonance
Fully mitred window system using closed cell technology
No exposed end–grain means no risk of water ingress
Features the British Casement window plus a full range of alternative opening options.
Smooth timber appearance; finger joints spaced every 500mm on windows, 1000mm on doors.
Eurogroove windows and doors, allowing standard hardware to be used
UK Manufacture for a Perfect Fit
We use a nationwide network of highly skilled fabricators to manufacture the full range of composite Hybrid products from our powder coated aluminium and engineered timber profiles. Local manufacture – usually within 50 miles of the project- enables on site measurement if required ensuring a perfect fit first time.
UK Delivery for Short Lead Times
Our spruce and oak engineered timber profiles are available ex-stock, whilst we can deliver our aluminium profiles powder coated to your specified colour within days rather than months. With additional service centres in Scotland and Wales, and twice weekly delivery with our fleet of eco-vehicles, we have some of the shortest lead times available in the UK for timber composite systems.
The Sustainable Solution
With high recyclability, excellent thermal properties and local manufacture, our Hybrid timber composite range can help you construct more sustainable buildings for future generations.
Not only is Level 5 achievable under the Code for Sustainable homes, but with careful specification and design we can help you attain up to 40 of the 119 BREEAM credits available and an 'Excellent' BREEAM rating for new Buildings.
Environmentally Sound
We take our environmental responsibilities very seriously. Hybrid is manufactured using recycled aluminium and timber from PEFC certified European forests. So not only is the chain of custody assured, but for every tree felled, four are planted to ensure no negative impact on the environment.
The entire range has an extended life span with the external Aluminium guaranteed for 25 years. Plus all Hybrid products are completely recyclable, meaning zero waste for landfill.
Energy Saving
The Hybrid range comes with enhanced thermal efficiency as standard, reducing heat loss and saving clients money on future energy bills. Careful specification means that outstanding U values can be achieved.
Fewer transport miles
Our engineered timber and aluminium is supplied in bar lengths and transported to UK based Hybrid fabricators using our fleet of 5 star rated eco vehicles. With our network of nationwide UK fabricators, manufacture of the final product within 50 miles of any project is possible. Not only does this mean fewer transport miles and less CO2 emissions, but it also allows on site surveys, ensuring a perfect fit first time, eliminating costly mistakes.
| | | | | | | |
| --- | --- | --- | --- | --- | --- | --- |
| | | | | | | |
| | Full range of timber aluminium composite windows (all timber PEFC certified), may be used independently or in combination with Hybrid Series 3 Curtain Wall. | | | | Frameless timber composite casement window for use in Hybrid Series 3 Curtain Wall applications to give a flush, seamless façade | |
| | | | | | | |
| | Full range of timer aluminium composite doors (all timber PEFC certified), may be used independently or in combination with Hybrid Series 3 Curtain Wall. | | | | | |
| | | | | | | |
| | Unique UK manufactured timber aluminium composite curtain wall system, fully CWCT compliant. Wide variety of design alternatives. | | | | | |