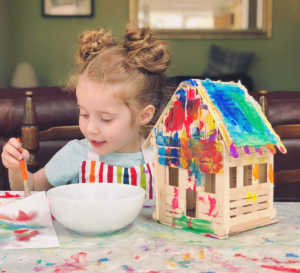 DESIGN-A-DEN CHALLENGE
– CAN YOU MAKE IT?
Calling all young budding designers, architects and builders across South Yorkshire and Derbyshire! We're on a mission to find the best imaginary hideaway in our 'Design a Den' Competition and there are some great prizes to be won.
So, if you are aged between 4 and 11 years old and think you've got what it takes, then read on…
The challenge
Imagine a space that's just for you, where you have total control over how it looks and no grown-ups are allowed! What would your den be made of? What would it look like? What activities might you want to do in your den?
We are looking for some really inspirational ideas and especially ones that consider the environment, so have a think about what materials you can reuse or recycle. The more unusual the better!
Getting creative
Once you have imagined what your own special space could look like, you can bring it to life in any of these ways.
Build – maybe build your dream den in the garden?
Model making – what about making a model of your den? Use whatever you have available such as card, paper or foil and don't forget to check the recycling box!
Drawing/ Painting/ Collages – get your creation down on good old paper if drawing is your thing. Feel free to use paints, pens, pencils to get your ideas across.
Design – create your den by using a drawing program or software on your home computer or tablet.
When your creation is complete, simply take a photograph and email it to us. Feel free to add some more information to your design if you wish but please, no more than 200 words. Don't forget to include your name, age and address, and make sure you check with your grown up before you enter.
Our competition is open to children between the ages of 4 and 11 years who live in South Yorkshire and North Derbyshire and there are prizes for the winner and runners up available in each category.
4 to 6 year olds
7 to 9 year olds
10 to 11 year olds
What could you win?
Your design will be judged on its creativity, how you have made it eco-friendly and any ideas you have had for using recycled materials and objects.
One winner will be chosen from each age category and will receive a brand-new iPad! We'll also be choosing a runner up in each category and they will receive an art and crafts set.
Looking for inspiration?
Here are some top tips
You may have heard of the amazing CBBC programme The Dengineers. Check it out on BBC iPlayer – it's oozing with ideas!
A great starting point is to choose a theme – do you have a passion for something? What makes you happy? It might be a place you've visited, an interest you have – a sport or activity you enjoy! The ideas are endless!
Ask a grown up to help you search for ideas online – what other dens are out there?
TERMS AND CONDITIONS
All entries must be submitted online by emailing your design in PDF or JPEG format to designaden@peakarchitects.co.uk (no more than 5MB per entry)
Please do not send any drawings direct as they cannot be returned.
All entries must clearly include, name, address and age of each designer. Please add this into the main body of your email.
The competition is open to children aged between 4 and 11 years only.
All entrants must reside in South Yorkshire or Derbyshire. Unfortunately, entries from outside these areas cannot be accepted.
Only one entry per entrant.
Entries from relatives of employees of the four organisations will not be accepted.
All prizes will be allocated at the discretion of the judges and all decisions are final.
The competition has been organised by Peak Architects, Senior Architectural Systems, OVO Spaces and Great Places Housing Group. Hereby known as the Promoter. The judging panel comprises representatives from each of these companies.
The winners will be announced on 1st July 2020 and notified of their selection via email within one working day and asked to respond for verification and claim details. If a winner cannot be contacted or does not confirm acceptance of their prize within two days of notification, the Promoter reserves the right to withdraw the prize from the original winner, who will have their prize forfeited, and pick a replacement winner.
The prize is non-negotiable, non-transferable and non-refundable. No cash alternative is available. Where a prize becomes unavailable for any reason, the Promoter reserves the right to substitute that prize for a prize of equal or higher value.
This competition is in no way sponsored, endorsed or administrated by, or associated with any third parties including Facebook, Twitter, LinkedIn and Instagram.
The Promoter will only use the personal details supplied for the administration of the promotion and for no other purpose, unless we have your consent. Your personal details will at all times by confidential and in accordance with applicable data protection legislation.
Entrants under the age of 18 must get consent from their parent(s) or legal guardian(s) before entering.
THE CLOSING DATE FOR ALL ENTRIES IS 12.00PM ON MONDAY 1st JUNE 2020.