Lord Burlington Announced as Judge for 'Design-a-Den Challenge' to Encourage Creativity in Children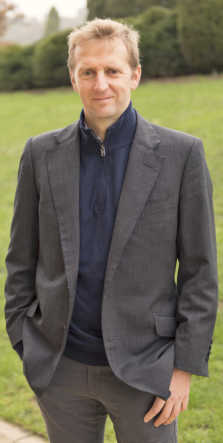 Four local companies behind the recently launched Design-a-Den challenge are delighted to announce Lord Burlington, Chair of the Devonshire Educational Trust, as one of the judges to find the best imaginary hideaway across Derbyshire and South Yorkshire.
The new 'Design-A-Den' competition has been devised by architectural practice Peak Architects, aluminium glazing systems manufacturer Senior Architectural Systems, commercial interior design and fit-out specialist OVO Spaces and social housing provider Great Places Housing Group. Aimed at children between the ages of 4 and 11 years, the creative challenge hopes to provide inspiration for those children and their parents who are currently home-schooling.
The Devonshire Educational Trust (DET) is an independent charity that works in partnership with the Chatsworth House Trust in Derbyshire and the Bolton Abbey Estate in Yorkshire, to provide learning opportunities. The DET vision is to 'make a positive difference to people's lives by inspiring a love and understanding of art, heritage and the environment'.
With many schools now closed in response to the current COVID-19 outbreak, the 'Design-A-Den' competition has been designed to appeal to children as well as their parents and teachers and provides a great opportunity to learn more about design, construction and engineering. The children are particularly encouraged to think about sustainability and how recycled materials can be reused or upcycled to feature in their very own eco-friendly den design.
The competition is split into different age groups (4 to 6 years, 7 to 9 years and 10 to 11 years), and the winning designers from each category will win a top prize of a brand-new iPad. Runners up will also receive a creative art set. The competition is open until Friday 1st May and the winning entries will be chosen by Lord Burlington and the rest of the judging panel comprising of representatives from each of the four companies involved.
Lord Burlington said, "I am very much looking forward to being a part of the judging panel for the Design-a-Den Competition because I'm always enthused to see the creative ideas that young minds come up with. The Devonshire Educational Trust's mission is to create learning opportunities, enriched by the essential qualities of our estates, to inspire current and future generations and affect how they live in and think about the world around them, and out so we are thrilled to support this initiative. It also coincides with the recent launch of our online Learning at Home Resources to support families and encourage spending time together."
Commenting, Peak Architects' Director, Paul Holden: "We are delighted to have Lord Burlington and the Devonshire Educational Trust on board. These are difficult times for all of us, and particularly for children who have found their usual routines and schooling completely turned upside down. We hope that our 'Design-A-Den' competition will not only help to entertain primary-age children but will engage with them to encourage some creative thinking and problem-solving. It's a great opportunity to get them out into the garden to either build a den or find inspiration for what materials they can use in their designs. We can't wait to see what they come up with!"
Entries for the 'Design-A-Den' competition should be submitted as JPEG or PDF documents and emailed to designaden@peakarchitects.co.uk before Friday 1st May. Full details and terms and conditions can be found on the individual websites of the companies involved.