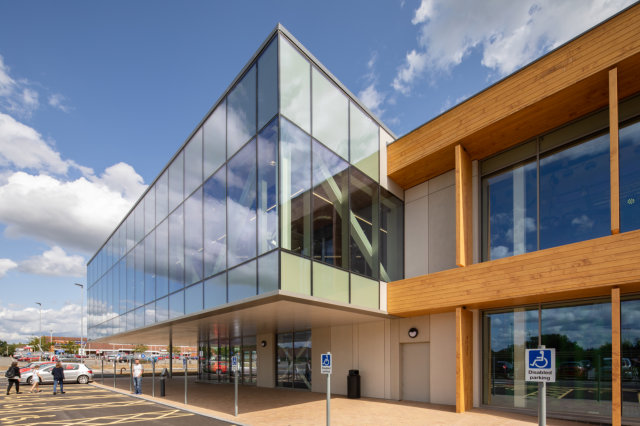 Combining strength and efficiency with a sleek slimline appearance, Senior Architectural Systems' SF52 aluminium curtain walling system has become a popular choice for use on leisure contracts of all shapes and sizes.
Repeat business with some of the major leading architects working in the sports and leisure sector has seen Senior's high-performance SF52 system installed on various schemes across the country including the Bridge Leisure Centre in Horsham and the Slough Ice Arena. Senior has also been involved in the creation of a number of sports facilities with leading universities, such as Solent University in Southampton and the University of Warwick, and has supplied fenestration products for several contracts completed as part of supply chain framework agreements with main contractors Willmott Dixon and Morgan Sindall.
Offering consistently slim 52mm sightlines, Senior's SF52 system lends itself perfectly to the leisure sector where facilities often incorporate large expanses of glazing to help create eye-catching entrances and maximise the use of daylighting. As the system can be specified in a wide range of capping options, including silicon glazed, SF52 has become a popular choice with architects looking to create bespoke facades. The use of a toggle system can also provide a flush, no cap, large glass unit effect and for further flexibility, SF52 can also be specified as a zone or mullion drained system.
In a sector where operational running costs are traditionally high, the thermal performance of Senior's SF52 aluminium curtain wall system can also contribute to improving the overall energy–efficiency of the building envelope. The system is also fully compatible with Senior's full range of aluminium windows and commercial door systems.
Senior's SF52 system offers a range of performance benefits but has also been developed to be quick and easy to both fabricate and install. This makes it ideally suited for meeting the requirements of the leisure sector and overcoming on-site challenges such as limited access or working close to high-traffic areas.
Andrew Cooper, national specification manager from Senior Architectural Systems commented: "Over the last few years, our work in the leisure sector has continued to increase and we are proud to have been able to support our supply chain in securing and delivering some truly stunning contracts. As a result, we have also developed strong links with many architects, main contractors and clients and are well placed to provide our fabricators and installers with the technical advice, tooling and reliable deliveries that they require to be able to win work in this vibrant market."