With an already impressive portfolio of projects in the education sector, leading fenestration manufacturer Senior Architectural Systems has seen a significant increase in specification of its SF52 aluminium curtain walling system for use on several University Technical Colleges (UTC) projects across the UK.
Created to provide exceptional learning environments for students from 14 to 19 years of age, the new generation of UTC schemes are helping to address the skills gap by promoting career opportunities in technical industries such as manufacturing and engineering.  Differing from traditional secondary schools in what and how they teach, UTCs often also follow their own specific design code, taking inspiration from modern business premises and embracing the use of natural light with the use of fully-glazed atriums and highly visible entrances.
Providing attractive slim sightlines to maximise the flow of daylight, Senior SF52 aluminium curtain walling system and SPW600 aluminium windows were the ideal choice for specialist glazing contractor Dortech Architectural Systems Ltd to create the glazed façade of the new state of the art Scarborough University Technical College.  Designed by architects Faulkner Brown, the new facility has been constructed by main contractor Willmott Dixon.
Dortech has also installed the fenestration package which comprises Senior's SF52 system and SPW600 aluminium windows to the Coventry USC, the new campus for Coventry University which is located at the same Scarborough site.
A further appointment by main contractor Willmott Dixon has seen Senior supply the fenestration package for UTC South Durham, a key feature of which is a triple-height engineering hall. Here, specialist contractor Chemplas has installed the SF52 aluminium curtain walling to create a bright and welcoming entrance with Senior's  SPW600 aluminium windows flooding the interior of the three-storey building with natural light.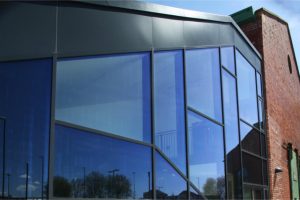 The aesthetic appeal and design flexibility of Senior SF52 curtain walling system has also been put to the test at the new University Technical College in Leeds.  Unusually, rather than a new build, this UTC has been created following the restoration of a Grade II industrial factory building. Fabricated and installed by Granada Glazing Ltd for main contractor BAM Construct UK, the slim sightlines of the SF52 curtain walling perfectly complement the industrial heritage of the building that has been given a new lease of life as a UTC by Race Cottam architects.  The Leeds' project also features Senior's robust SD automatic doors.
Another key design consideration of modern UTC projects is energy-efficiency and the desire to embrace new and renewable technologies to reduce the carbon footprint of the building.  Not only is thus vital in terms of today's need for sustainable construction but also fits perfectly with the desire to promote and develop innovation – an ethos that is at the heart of UTCs.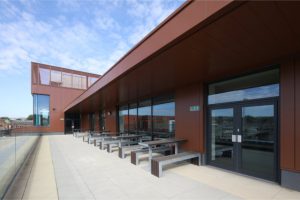 The enhanced thermal performance of Senior's SF52 curtain walling makes it ideally suited for applications where daylighting and energy-efficiency are key requirements and as such, has been used to great effect at the new UTC Sheffield Olympic Legacy Park.  A repeat business opportunity with both Granada Glazing Ltd and BAM Construct UK, Senior's SF52 curtain walling and SD automatic doors have been used to create the dramatic, double-height glazed entrance to Bond Bryan architects' designed building.  With the new UTC sourcing up to 10% of its energy from renewable sources, the thermal efficiency of Senior's SF52 aluminium curtain walling system made it the idea choice for a project where sustainability was such an important requirement.
The new SF52 system is fully compatible with Senior's portfolio of windows and doors, offering visual consistency with slim 52mm sight lines to help any project achieve a uniform appearance. The system is also capable of holding double or triple glazed units ranging from 24mm to 50mm in thickness via the use of various gaskets and thermal breaks.
SF52 has been carefully designed and developed to ensure that high aesthetics are equally matched by consistent and reliable construction quality, with no special machinery or tooling required for ease of fabrication.  Suitable for ground floor or high rise projects, full design support and technical back-up is available and the range has now been uploaded to the NBS National Building Information Modelling (BIM) Library.  SF52 is also fully CWCT tested, has excellent weather performance, is durable, recyclable and has a life expectancy of more than 40 years. It is available in an unlimited choice of colours and finishes both externally and internally.