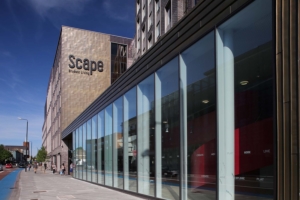 Senior Architectural Systems have provided high performance windows and curtain wall on one of city's most desirable student living projects. 'Scape Living' opened its doors in September, 2012 and is situated on Mile End Road, just opposite the Queen Elizabeth University in London.
Jefferson Sheard Architects designed a building consisting of three primary blocks tiered in height. Sustainability issues are addressed by incorporating features such as green sedum roofing on two of the tiered blocks as well as ground source heating and cooling. Student accommodation occupies the majority of the building, with educational teaching facilities housed in the lower and ground floors.
With an innovative internal scheme by Ab Rogers, designers have created a bright, modern and cost effective solution to student living. Scape Living caters for 600 students with study bedrooms not more than 12.5 square metres in area. Scape features two restaurants, a cafe/deli and an Asian fusion restaurant, along with several communal areas to cater for all students needs. The very colourful internal design gives an innovative approach to compact city living; Scape Living is a functional, vibrant project that serves to benefit students as they embark on their university journey.
Whilst the interior offers colourful features such as red spiral staircases, there are stunning glazed courtyard gardens and an imposing double height entrance which are just a few of the building's features and have been created using Senior's high performance systems.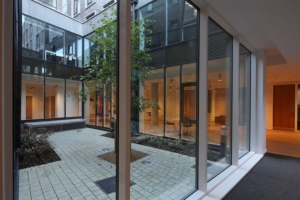 Aluminium's recycling capability is well known with almost 100% recyclability without loss of material integrity; perhaps less known is the work the industry is doing to reduce CO2 emissions. Since 1990 the industry has cut emissions by a massive 50%. Senior Architectural Systems are developing products in the UK using these efficient alloys and finishes which offer long term sustainable solutions. Senior's systems currently exceed the UK requirements outlined in Approved Document L. Senior's continue to develop products with an eye to the future requirements of the industry.
On completion of the project Tom Ward, Scape Living COO, commented, "The vision for Scape Living was to create a space that students could see as their base for a rewarding educational and social experience. The design ethic was paramount throughout; from the quality of finish in the rooms to the functionality of the communal areas, which are unique in their scale and feeling of light. We wanted to make something that was more than just an innovatively designed building however, Scape Living is a hub where students are empowered to have fun and learn, while taking pride in the place they will call home as they study in the Capital."
Completed just in time for the London 2012 Olympics, Scape Living played host to many Olympians and LOCOG dignitaries due to its proximity to the games.
The 'Scape Living' brand was created by a joint venture formed by the principals of Event Properties, Gravis Capital Partners, and Grosvenor House Group. Jefferson Sheard Architects were appointed by HG Construction to design the project and the fabricator and installer of Senior Architectural Systems was Denval of Cardiff.