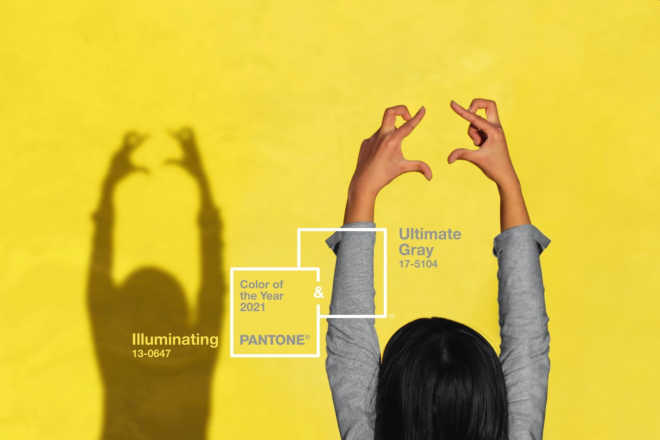 As we enter 2021 with hope for a brighter future, Pantone's choice for colour of the year 2021 couldn't have been more apt. Find out how the 2021 colour of the year will influence home décor and architectural design
For only the second time in history colour gurus at Pantone have chosen not one but two complementary colours to be the 2021 Colours of the year. Ultimate Gray (PANTONE 17-5104) and Illuminating (PANTONE 13-0647) a bright and cheerful yellow.
Rock solid and Optimistic
According to Leatrice Eiseman, executive director of the Pantone Colour Institute "The union of an enduring Ultimate Gray with the vibrant yellow Illuminating expresses a message of positivity supported by fortitude. Practical and rock solid but at the same time warming and optimistic, this is a colour combination that gives us resilience and hope. We need to feel encouraged and uplifted; this is essential to the human spirit."
Home décor trends
With lockdown 3 now in force, once again people up and down the land are keeping themselves busy by reaching for the paint pots to give their homes a makeover. According to 'Homes and Garden's magazine, the pantone colours of the year 2021 are likely to be a big hit "Grey is the versatile and much-loved neutral and teamed with zingy yellows it can create an energising feel to a room that works with any style."

But not all paint companies are following Pantone's lead. Dulux have chosen their own colour of the year as "Brave Ground – a warm, natural neutral, that brings a bolstering, balancing feel to any room Benjamin Moore chose Aegean Teal "a balanced and soothing hue, softened with a touch of grey to create spaces with a casual elegance". And Sherwin-Williams went for Urbane Bronze – a warm, sophisticated bronze to create a space of sanctuary.
Influencing building design
So, what will PANTONE's choice mean for architectural design? Based on past years, whatever colour PANTONE choose as their 'Colour of the Year', somehow manages to infiltrate everything from clothes and shoes, to wallpaper, paint and home furnishings. In fact, it plays a large part in many new designs and that includes buildings.
With our state-of-the-art powder coating plant, including both horizontal and vertical lines, we can provide all our aluminium glazing products in any RAL colour including Ultimate Grey and Illuminating yellow. We also offer dual colour on all our fenestration products, so it is possible to have Ultimate Grey on the exterior of your window or door frame and Illuminating yellow on the interior.
50 shades of grey
Whilst incorporating illuminating yellow into the exterior design of a building would be a bold move, adding grey – Ultimate or otherwise – is a much easier decision.
In our experience, grey is the most popular colour chosen by architects and homeowners alike for our energy efficient aluminium windows, doors and curtain walling.
The vast majority of our paint orders are for Anthracite Grey, a slightly darker shade than Ultimate Grey. But we can provide grey in any shade you like – we can even colour match to your favourite jumper or a pebble from the beach.
Bold exteriors
If you'd like to use Illuminating yellow in your architectural designs, there are some sectors that are especially suited to bold exteriors. Here are just a few examples where yellow has worked well:
Residential schemes
Adding bold colours to the exterior of a building can add energy and a positive vibe. A good example is the Hugh Webster Place in Hull, Winner of the 'Best Social Housing' category at the South Yorkshire & Humberside Local Authority Building Control (LABC) Awards in 2019. Designed by Hodson Architects this vibrant housing scheme features bright and colourful cladding complemented by the use of Senior Architectural Systems' slim profile SPW600 aluminium doors and windows in Anthracite Grey.

The Strand in Rochdale, a mixed retail and residential development also makes good use of yellow, providing a zingy splash of colour next to the anthracite grey of Senior's SPW501 commercial aluminium doors and SF52 aluminium curtain walling.
Schools and colleges
Educational establishments are another area where bold colours often feature as a part of the exterior design. One of our favourite projects is Pleckgate Mathematics and Computing College in Blackburn which uses some stunning colours to one of the main Hybrid Curtain Wall facades. Nine huge Vertical Louvre Blades, each made up of four specialised extrusions, are fixed through the Curtain Wall System and are finished in various bright colours. Offering perfect 'form and function', the Louvre Blades both enhance the school's appearance whilst reducing solar gain.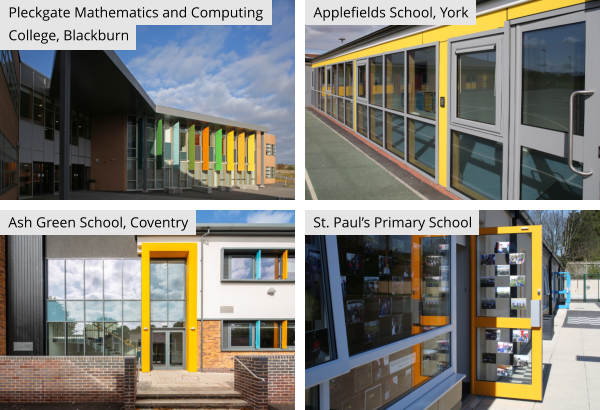 Other examples include Applefields School York, Ash Green School, Coventry and St. Paul's Primary School which features Senior's SPW501 commercial doors in bright primary colours.
Let optimism inspire you
So, as you start on your next architectural design, let the optimism of PANTONE's colours of the year 2021 inspire you. Adding colour to your project will get both you and your building noticed as well as lifting the spirits and putting a smile on the face of those who pass by. And whichever colour you choose, remember that Senior can provide windows, doors and curtain walling in any colour you like.