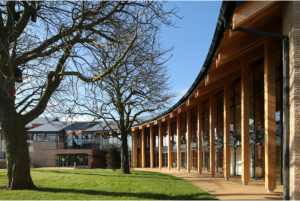 A newly-developed, multi-million pound retirement village in South Derbyshire, which boasts its own hairdressers, gym and bistro, has benefited from the specification of Senior Architectural System's innovative Hybrid curtain wall and window systems.
Oakland Retirement Village in Swadlincote, which opened earlier this year, caters for the needs of those aged 55 and over and offers a range of care and support services with 24 hour on-site cover for the needs of residents.
Oakland was designed by architects Glancy Nicholls Architects, who specified our Hybrid glazed roof, Hybrid Series 3 curtain wall and windows and SCW aluminium curtain wall for the £20million project.
The design of the village incorporates a double height concave horse shoe curved screen, incorporating our unique timber and aluminium composite Hybrid Series 3 curtain wall system, which ensures the main community area is flooded with natural daylight, creating a serene environment for residents.
Our Hybrid curtain wall and window systems perfectly complement the glulam timber structure used extensively on the development. The timber incorporated into the Hybrid system offers a natural feel to the interior of the building, ensuring residents feel at ease and, importantly, at home. Hybrid offers all the aesthetic, thermal and environmental benefits of timber, combined with the high weather performance and durability associated with aluminium externally.
Our Hybrid glazed roof was used in the main entrance of the development, together with Hybrid Series 3 to the entrance elevation to greet residents and visitors with rays of natural light and to bring the outside inside in a communal mezzanine seating area which sits below. The roof system offers high performance and the timber composite again ensures this is the most aesthetic and sustainable option for glazed roofing.
Our SCW aluminium curtain wall was specified to co-ordinate with the Hybrid system, providing clean lines and a crisp feel to the entrances, common areas and stairwells of the adjacent apartment buildings, opening up the areas to the outside whilst contributing to an impressive thermal performance rating.
Sandeep Magar, an associate at Glancy Nicholls, said: "We specified Senior's Hybrid system for Oakland as the aesthetic and thermal properties of the product work particularly well in the residential environment. The environmental credentials that the system brings have ensured the building achieved a 'very good' BREEAM rating.
"Internally, the timber finish of the system is complementary to the other materials we used, including natural stone, and adds a sense of warmth to residents' surroundings, unlike UPVC alternatives. Overall, the Hybrid system fulfilled all of our requirements and we would certainly use it for future projects."