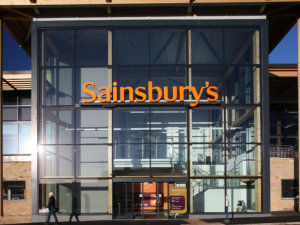 An innovative new thermally-efficient curtain walling system developed by leading fenestration systems designer and manufacturer Senior Architectural Systems has proven to be the clear choice for use on a major superstore development for Sainsbury's.
The new store in Wadsley Bridge, Sheffield, is the first completed project to showcase Senior's SF52 structural silicone glazed curtain walling system which has been installed by Insight Architectural for main contractor McLaughlin & Harvey (formerly Barr Construction). Boasting enhanced thermal performance, the SF52 system was specified for use on Sainsbury's first steel and timber hybrid store that features a number of sustainable design elements including rain water harvesting.
The new SF52 curtain walling system has been installed to the main entrance elevation, providing the new store with a dramatic façade that is easily recognisable from the main road and which creates a welcoming sense of light and space. Available fully capped, capless or a combination of the two, and with an almost unlimited range of colours and finishes both inside and out, the SF52 curtain wall offered Insight Architectural plenty of design flexibility.
Commenting on the project, Shaun Booth, Insight Architectural contracts director said: "Having worked with Senior on a number of previous contracts, we are delighted to be the first UK installer to showcase the company's new SF52 curtain walling system. The new store for Sainsbury's was a fantastic project to be involved with and the new SF52 system was the ideal choice for use on a building where energy efficiency and sustainable design was paramount".
The new SF52 system is fully compatible with Senior's portfolio of windows and doors, offering visual consistency with constant slim 52mm sight lines to help any project achieve a uniform appearance. The system is also capable of holding double or triple glazed units ranging from 24mm to 50mm in thickness via the use of various gaskets and thermal breaks.
SF52 has been carefully designed and developed to ensure that high aesthetics are equally matched by consistent and reliable construction quality, with no special machinery or tooling required for ease of fabrication. Suitable for ground floor or high rise or projects, full design support and technical back-up is available and the range has now been uploaded to the NBS National Building Information Modelling (BIM) Library.
SF52 is fully CWCT tested, has excellent weather performance, is durable, recyclable and has a life expectancy of more than 40 years. It is available in an unlimited choice of colours and finishes both externally and internally.