Windows from Senior Architectural System's innovative Hybrid range have helped shed new light on the quest for zero carbon design after being installed by leading glazing solutions provider Vellacine at the Solcer House, the UK's first low-cost energy positive house.
Designed by the Welsh School of Architecture at Cardiff University as part of the SOLCER (Smart Operation for a Low Carbon Energy Region) project, the ground-breaking building boasts a unique design that combines renewable energy supply, thermal and electrical storage and reduced energy demand. As the UK's first replicable and affordable energy positive home, the house is capable of exporting more energy to the National Grid than it uses over the period of a year and features a number of high-performance and sustainable products including windows from Senior's Hybrid range.
The team from Vellacine worked closely with the Welsh School of Architecture throughout the specification process which fitted the brief of the project. . As a valued supply chain partner and approved installer, Vellacine also recognised the sustainable credentials of Senior's Hybrid window system, which combines the durability of aluminium externally with the environmental and aesthetic benefits of timber internally.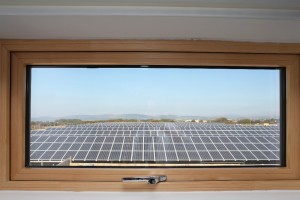 Les Calder, architectural development manager at Vellacine explains: "The desire to use locally sourced materials and contractors was a key consideration for the Welsh School of Architecture and following discussions with the lead project architect, we were able to demonstrate the numerous benefits of using a sole provider who could undertake the fabrication and installation here in Wales. The windows were fabricated to the exact specifications at our dedicated facility in Cardiff and then installed by our local team. Senior's Hybrid window system provided the ideal solution for this ambitious project and we are extremely proud to have been involved in its construction."
Jo Patterson, Solcer Project Manager confirmed: "The key to taking the systems based approach forward is for the supply chain to be flexible to new ideas and to work together to provide solutions. The Solcer House has been an excellent demonstration of this, with the partners involved rising to the challenge to join in with the decision making process and provide technological solutions from their areas of expertise".
Made from 100% recyclable aluminium and a choice of responsibly sourced engineered spruce or oak, Senior's Hybrid windows offer excellent thermal properties and low U-values. Specified with low-emissivity double glazing from NSG Pilkingtons, Senior's Hybrid composite frames feature alongside various other sustainable building products including low-carbon cement, structural insulated panels, external insulated render and transpired solar collectors. By using 'off the shelf' products and technologies that are already available, the Solcer House project was constructed in just 16 weeks and aims to be a prototype that demonstrates how low energy homes could be more widely constructed.
For more videos about the Solcer House visit:
https://www.youtube.com/watch?v=6w9g4A-9Hq4