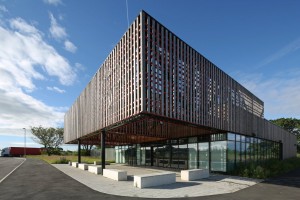 The new headquarters for Girlguiding North West England has been given a light and spacious new look thanks to a suite of products from leading fenestration designer and manufacturer Senior Architectural Systems.
Designed by Walker Simpson Architects, the new purpose-built facility in Preston features continuous glazing across all facades which has been installed by Alusec UK Limited. The use of Senior's thermally efficient SCW+ curtain walling has provided clean, crisp lines, creating an open and accessible layout which allows those inside the building a clear view of the outside areas. Senior's SPW600e windows, ideal for boosting interior ventilation and air circulation, also facilitate the flow of natural light.
To complete the package, Senior's ground floor aluminium SFG shop front glazing system has been specified to integrate seamlessly with the SD commercial doors, which offer an anti-finger trap feature.  Its resilience also ensures the system's suitability for high traffic environments.
The close proximity of the new building to a protected hedgerow and mature trees has been sympathetically reflected in the design, with Senior's aluminium glazing solutions providing exceptional views of the surroundings and contrasting perfectly with the striking cantilevered timber lattice entrance canopy above. 
As the administration base for the organisation's 68,000 members based in the north of England, the new headquarters for Girlguiding North West also features a small trade counter from which uniforms and supplies can be purchased and also offers commercial office space that can be rented by the wider community.