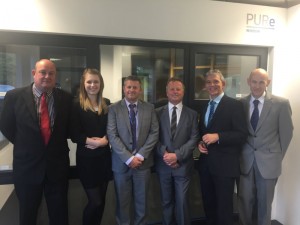 As part of the company's ongoing commitment to meeting and exceeding the needs of its clients, leading fenestration designer and manufacturer Senior Architectural Systems has invested heavily in a new specification team and technical services department. 
Andrew Cooper has been appointed to the newly created role of national specification manager and will head up Senior's new specification division with support from a team of architectural advisors operating on a regional level.  The expansion of the specification team will provide support to architects, local authorities, specifying bodies and contractors, both regionally and nationally, and will also see Senior establish its first dedicated specification sales presence in central London.
The launch of Senior's new technical services department will offer main contractors a valuable resource in accessing product and performance information on the company's extensive range of window, doors and curtain walling systems.  
Senior's existing technical sales teams is also set to benefit from the appointment of David Stephens, who brings with him a wealth of industry experience, gained from his previous role as sales manager with Acorn Aluminium Limited.
As well as helping to strengthen relationships with Senior's large client base, the company's investment in its specification services will bring numerous benefits to its extensive network of installers and fabricators by providing greater opportunities.
Senior's sales director James Keeling-Heane commented: "This is an exciting period of expansion for the company and I am looking forward to working closely with the members of our new specification and technical sales teams to help build on Senior's successful position in the fenestration market.  The investments that we have made to our sales force, alongside the ongoing work we are doing to ensure our product range is fully BIM ready, will better enable us to offer our clients the most attentive and effective level of specification service."
Senior's new specification team and technical services department will play a key role in supporting the launch of two of the company's most innovative product developments – the new ultra low U-value PURe aluminium window and the thermally efficient SF52 curtain walling system.