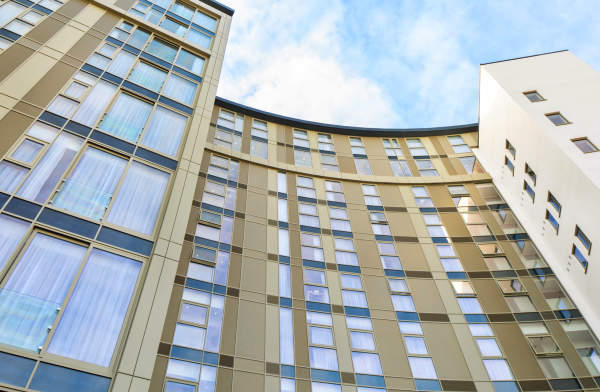 Senior Architectural Systems has provided a high-performance fenestration package for a stunning new residential development in Nottingham.
The Waterside Apartments scheme, aptly named owing to its prominent location on the banks of the River Trent, comprises a mix of luxury residential accommodation, with 121 individual apartments and duplex penthouse developed over 11 storeys, with office and leisure facilities to the ground floor. The project is a key part of the wider regeneration of the area and is located on the site of the former Rushcliffe Borough Council Civic Centre.
Designed by Leonard Design Architects for clients Monk Estates and Harmony Bridge Limited, the Waterside Apartments enjoy expansive views of the city and the river and these have been enhanced through the specification of Senior's aluminium windows, sliding doors and curtain walling. Senior's products have been installed and fabricated by supply chain partner Duplus Architectural Systems Ltd and were powder-coated to provide added protection from the elements and offer even greater durability.
The development maximises the sense of light and space through the use of floor to ceiling glazing, with Senior's slim profile SPW600 aluminium windows used throughout alongside Senior's sleek SF52 aluminium curtain wall system. To provide natural ventilation and access to Juliet balconies, Senior's patented low U-value PURe® SLIDE aluminium doors have also been installed. By offering exceptional thermal efficiency, when closed the PURe® SLIDE doors will also help to retain heat and create a more comfortable interior environment that is more cost-effective to maintain.
The PURe® SLIDE range includes an inline sliding door, which is perfect for residential projects, and a lift and slide door, now in a choice of single, double and triple track configurations. The addition of the triple-track option, which enables all three door panels to slide, offers even greater design flexibility by maximising the sense of light and space to achieve wider views, larger openings and beautiful full length sliding glass walls.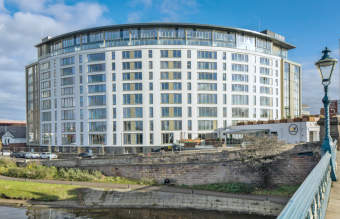 Senior's PURe® SLIDE aluminium doors also provide exceptional thermal performance thanks to the patented use of an enhanced thermal barrier manufactured from expanded polyurethane foam (PUR). By offering significantly lower U-values than other aluminium doors currently available, PURe® doors are ideally suited to creating comfortable interiors which can lead to a reduction in energy bills and can have a positive effect on reducing a project's overall carbon calculations.