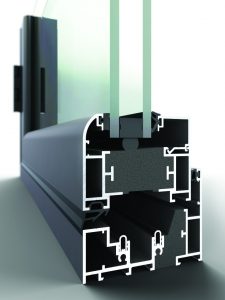 Leading fenestration designer and manufacturer Senior Architectural Systems has been awarded a UK patent (GB252363.8) for its market-leading PURe® range of energy-efficient windows and doors.
The new patented system is the first on the UK market to benefit from an enhanced thermal barrier manufactured from expanded polyurethane foam (PUR). Traditionally used in cladding and insulation products, the innovative use of PUR as a thermal barrier in windows and doors gives the PURe® range the potential to achieve U-values as low as 0.71W/m2K when calculated as a commercial CEN standard window and 0.93W/m2K when calculated as a CEN standard door.
Following the launch of the innovative PURe® window in 2015, the system has been positively received by both fabricators and specifiers alike with Senior's new innovation going on to be installed on a number of contracts across both the residential and education sectors.
The range has been strengthened by the recent launch of Senior's energy-efficient PURe® door system which includes folding sliding, inline sliding, lift & slide, single and double options.
Mark Wheatley, Senior Architectural Systems' technical director commented:
We are extremely proud of our PURe® range and delighted to have been awarded a UK patent. Both the PURe® windows and doors have been carefully developed, utilising the optimum amount of PUR insulation to offer excellent thermal performance with the potential to achieve the lowest possible U-values. The competitive price of the range, along with its ease of fabrication, have also contributed to its successful launch and now that this important milestone of gaining a UK patent has been achieved, we are confident our PURe® fenestration system will continue to go from strength to strength.