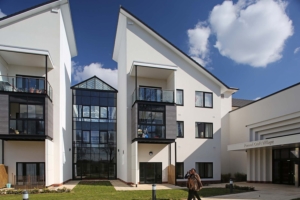 We are all growing older and living longer, a fact confirmed by the Office of National Statistics, the most common age at death in England and Wales in 2010 was 85 for men and 89 for women. Over the last 50 years (1960-2010) the average life span has increased by around 10 years for a man and 8 years for a woman. So not only do we have an ageing population, but a UK population that is expanding rapidly.
Housing and housing complexes, designed specifically for the needs of todays advancing elderly generation, offers a supportive, community based environment, with the latest technological developments and care close to hand if required.
Currently care homes are nearly full to capacity and, with no alternative choice, single homeowners revert to these homes as seemingly no alternative exists. Many elderly are therefore institutionalised when they could live healthy, independent lives given the correct homes and support. To reduce the dependence on care homes, the UK needs to deliver modern homes for retirement.
New to the UK, following the lead from countries such as USA, New Zealand, Australia and South Africa, are 'Retirement Villages'. These 'new' developments' are built as new villages, surrounding a core of amenities or 'village centre' which includes leisure facilities, such as restaurants, bars,  village hall, sports facilities, well-being centres, IT suites, craft rooms, greenhouses, allotments, to name but a few.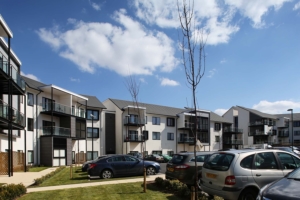 Rather than selling up your home and losing your possessions and taking a 'resident' status in a care home, people moving into a retirement village often have the option of purchasing their own home or apartment and take with them their own furniture and possessions, most provide at least one car space. When additional care is required in the future, support is available close by, all of which can be provided in various packages to suit individual needs.
Senior Architectural Systems have been at the forefront of specification in this emerging sector with both aluminium, and timber aluminium composite, window, door and curtain wall systems. Specifiers choose these systems for their high perceived quality, high insulation, long life and total recyclability. Retired people are choosing to move to these new villages rather than succumbing to residency in a traditional, old peoples home, safe in the knowledge that they have all they will ever need close by and that they retain their own modern home and independence.
Unlike the care home sector, retirement villages are not yet regulated in the UK, but this will only be a matter of time as more of these facilities are built across the country. Feedback from people making the move to a retirement village has been very positive.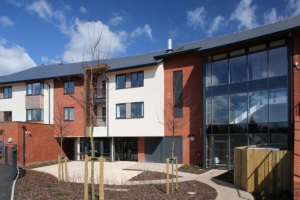 Pannel Croft Retirement Village, is a new development in Birmingham in conjunction with The ExtraCare Charitable Trust. Opened in 2012 the development uses Senior's aluminium Systems, SPW600 casement windows & doors and SMR900 curtain walling. A low rise three storey development, the village offers a mix of 180 houses and apartments for both sale and rent. Coupled with the village centre and the amenities the development creates a real sense of community for its inhabitants.
The project is the result of a successful partnership between Birmingham City Council, The Homes and Communities Agency, who contributed £9 million, The Department of Health, who contributed £3.2 million and The ExtraCare Charitable Trust.
Oakland Village is a further new development located in Swadlincote, developed in conjunction with and supported by the charity, Trident Reach. The village accepts people aged 55 or over, and again offers both rent and purchase of property in the 88-apartment purpose-built sheltered scheme. Glancy Nicholls Architects specified Senior's Hybrid curtain wall and window systems on the scheme which perfectly complements the timber structure used extensively on the development.
Oakland Village boasts its own hairdressers, restaurant, bar, bistro, gym, convenience store and a host of communal facilities, including landscaped gardens, allotments, a lounge, IT suite, library and a village hall-style function room.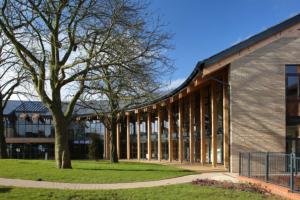 Retirement villages and care for the elderly is a long-term growth market in the UK, as life expectancies continue to increase. This growth will create further opportunities for businesses that offer specialist care for aged-related illnesses, increase employment opportunities, importantly demand will be lead for high-quality homes and villages. Sector specialist Key Note have forecast that the long-term care market will grow by 13.2% between 2011 and 2015 to reach £16.2bn. We should also consider the growth in the construction refurbishment sector of care homes and retirement complexes where additional security, automation and insulation are required for new windows and doors to meet new legislation and standards.
Quality is a crucial choice when it comes to moving to  a retirement village. Often moving from a 3 or 4 bedroom property, a retired couple will be looking for an individual home or apartment with the highest quality fittings and this is where Senior's products meet these aspirations perfectly. All Senior Architectural Systems products have been tried and tested in commercial as well as residential properties for over 20 years and all have been designed specifically for the discerning UK market.