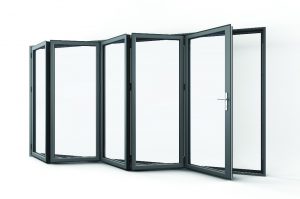 Senior Architectural Systems is delighted to announce that its new Ali FOLD doors are now available from leading manufacturer Future Products Ltd.
Providing even greater choice for its trade customers, Future Products Ltd will fabricate and supply Senior's stylish and high performance Ali FOLD doors which are available as folding sliding, single swing and double swing styles.
Designed for maximum style and performance, the new Ali FOLD doors have narrow sightlines to offer a modern look and are fully compatible with all Senior's full window range. The doors are available pre-finished in an almost unlimited range of colours and finishes both inside and out, with a choice of configurations and sizes and are simple to fabricate using existing tooling.
The Mansfield based company is also set to become one of the first fabricators to offer the full suite of Senior's revolutionary new PURe® FOLD doors. Available as folding sliding and both single and double swing options, Senior's new patented PURe® FOLD doors feature an innovative, enhanced thermal barrier manufactured from expanded polyurethane (PUR), allowing ultra-low U-values to be achieved. By offering significantly lower U-values than other aluminium doors currently available, Senior's PURe® doors offer the additional benefit of being able to make a substantial improvement to the overall carbon footprint of a building which in turn can lead to a reduction in energy bills.
Commenting Future Products Ltd's technical director Stuart Bower said:
We are delighted to have teamed up with Senior Architectural Systems and to be manufacturing and supplying two of the company's most recent innovations. We are already seeing great interest from our trade customers in the new doors systems and the new low U-value PURe® FOLD in particular is proving very popular. Together the PURe® FOLD and Ali FOLD options are a welcome addition to our product offering and thanks to their ease of fabrication, we are really looking forward to working with them!"