Covid-19 has had a big impact on the construction industry. But many sites remain open, and main contractors continue to work, so there is still a need for fenestration systems. In addition, many firms are preparing for the future by putting projects out to tender, and our fabricators are preparing bids to ensure a good work flow when restrictions are lifted.
To help our customers through this difficult time, we remain open with some changes to our operations to keep our staff safe.
We have also reviewed the services we provide for our customers. In particular we have looked at how we can help our fabricators to prepare and submit bids, when many have had to furlough staff or work from home. The result is an enhancement of both our Estimating and LogiKal services:
Estimating
Meet Guy Olsen, who runs our estimating service. His job is to process projects using LogiKal software to give a materials analysis and price for the metal and accessories.
Before the current pandemic, Guy's main work was preparing estimates for projects on behalf of smaller fabricators who do not have LogiKal software, or who required assistance with processing.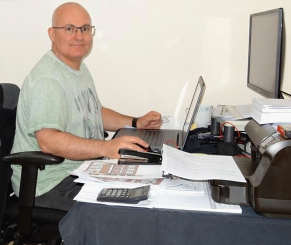 Now Guy is also helping our larger fabricators, who because of reduced staff, or home working, do not have the time or resources to prepare their own estimates. He is currently preparing estimates for several tower blocks and has more large projects in his in-tray ready for processing. So, there is work out there and Guy can help you to win it.
An additional part of Guy's role now includes working with Andrew Cooper our National Specification Team Manager to prepare budgets for main contractors.
Guy's background makes him ideal for this role having previously spent many years as commercial manager for a large sub-contractor. This gives him an invaluable insight into what both Fabricators and Main Contractors require.
The benefits of using our estimating service are many:
Saves you time and money
Having Guy prepare your estimates means that your staff can work on other things, safe in the knowledge that the estimate will be prepared by someone who really knows what he is doing.

Nothing is forgotten
Because Guy knows our systems inside out, he will make sure that all the parts and accessories needed are included in the estimate, so that you can be confident when ordering and quoting.

Quick turnaround
Working on LogiKal day in and day out, means that Guy can input the project and prepare estimates much more quickly that someone who only uses LogiKal occasionally.

Right system for the project
For many projects, specific products are not specified by the architect or main contractor. Using his in-depth knowledge of Senior's systems, Guy can make sure that you have most suitable products for any project. He will take into account the thermal performance, structural requirements and cost to come up with a recommendation that meets the project criteria.

U value and Windload calculations
To make sure project criteria are met, Guy prepares U Value and windload calculation. If a site specific windload is not specified for the project, Guy will outline the assumptions made in his calculations and recommend that a structural engineer be employed to calculate an accurate site specific windload. Again, Guy's knowledge of our systems means that when preparing an estimate, he can quickly add thermal or structural enhancements or change systems to achieve the required U value and windloads.

A comprehensive service
We are perhaps the only systems house to provide such a comprehensive estimating service. Not only can we provide all the calculations to ensure that project criteria are met, recommendations for the best systems for each project and solutions to minimise cost, but we can also input the order for you once you have secured the bid.

Like many of our staff, Guy is now working from home. Our IT team have made sure that he has all he needs to provide this enhanced service for larger fabricators. He is regularly in contact with our sales and specification teams as well as our technical team and LogiKal support staff to ensure that he always provides a first-class service.

To take advantage of our estimating service, simply contact your Technical Sales Manager.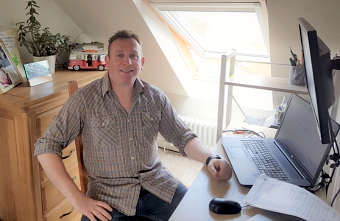 LogiKal Support
At Senior we are extremely fortunate to have our own dedicated in-house LogiKal developer. Ian Hannis joined Senior in 2017. He has worked with LogiKal for over 13 years and in the past has worked for BM Aluminium (the providers of LogiKal software) and now programs updates to the Senior database in conjunction with Orgadata (the developers of LogiKal software) and BM Aluminium.
Ian's extensive knowledge of both the LogiKal system and Senior's Aluminium systems means that updates to the Senior LogiKal Database are both faster and have fewer glitches than ever before. In fact, our LogiKal updates are now always available within 48 hours of a technical bulletin being sent to customers detailing changes or additions to our product range.
In addition, together with team members Guy Olsen and Mark Cocker, Ian provides a range of services to our fabricators including:
LogiKal bulletin – these are sent out regularly to all fabricators who use LogiKal and provide information on the latest LogiKal updates including details of any solved existing problems, and outstanding issues as well as guides on how to use new systems and functions. We have had very positive feedback about the bulletins from our customers who appreciate the transparency and welcome the advice on how to get around any issues.

Installation and training – both Ian Hannis and Guy Olsen are always on hand to help you install LogiKal software and provide training on how to use it. During lockdown this can still be done remotely. Ian loves transferring knowledge and says "there's always something to learn with LogiKal."

U-values – Ian works closely with Mark Cocker in our technical department who is able to provide U values and provide technical advice on our aluminium systems.

Demonstrations and trials – for customers who do not yet use Logikal, we are able to offer trials of the software together with online demonstrations of how to use it. So far, everyone who has taken part in the trials has chosen to continue to use LogiKal, quickly realising the time and cost savings that the software offers for processing.

Module trials – for customers who already use LogiKal we can offer a free trial of add on modules like CAD so that they can see the benefits and decide if it is worth adding to their package. Again, customers are given demonstrations on how to use the module and ongoing support.

LogiKal Lite – For fabricators who only manufacture our domestic products we offer a cut down version of LogiKal at a reduced cost. This is a personalised version which is preloaded with our domestic aluminium systems and preconfigured with reports and discounts. We send you a USB and dongle so that you can easily install it yourself.

Support helpdesk – with over 13 years experience of LogiKal both as a user and programmer, Ian enjoys helping customers, answering their queries and guiding them through the system and says "Helping customers achieve the most from their software gives me tremendous job satisfaction and I have enjoyed building up relationships with our customers." His advice to customers is "if you have been stuck for more than 5-10 minutes don't hesitate to give us a call."
During lockdown, with many customers working from home, LogiKal support has been more crucial than ever. Ian has worked with many customers to ensure that they are still able to use LogiKal for processing quotes, optimising materials and raising purchase orders from home. Solutions have included:
Working with our customers to advise them on the best way to implement remote working using LogiKal and their current IT infrastructure.

Providing extra dongles – to allow several people to use the software from home.

Providing a work-from-home version of the Senior Logikal database which requires less storage so that it will work on a laptop.

Taking backups of projects so that work already completed is not lost and can be worked on several different laptops at the same time.
Like many of our customers, Ian is currently working from home, but is still able to offer the complete range of LogiKal services including help with converting to home working. This will all be done remotely, but don't be surprised if Ian's 6-year-old son makes an appearance during video calls!
If you would like to take advantage of any of our LogiKal support services please contact Ian on 07436 544 493 or email ianh@sasmail.co.uk