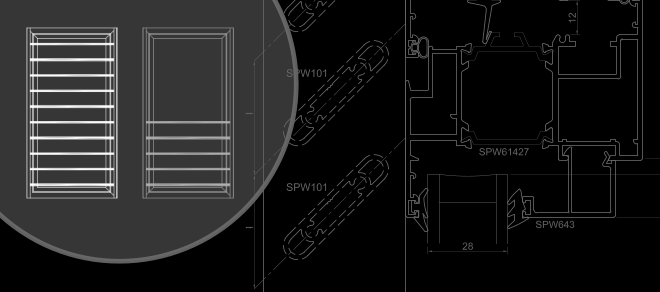 The Louvre Guard system is a stylish aluminium louvre which can be used with our inward opening SPW300, SPW600 and PURe® window systems. It is ideal for high-rise buildings where excellent ventilation is needed, whilst keeping occupants safe from the risk of falling from a window.
Available either in anodised silver or bronze, or in any standard RAL colour, the Louvre Guard System adds an extra design element to give any building a distinctive look.
The system is easy to install and consists of an external adaptor and oval shaped blades, which are fixed to the outside of an inward opening window, and can be positioned horizontally or at any angle up to 45 degrees in either direction. This means the windows can open to their maximum angle, maximising ventilation whilst guarding those inside from the risk of falling from the window. The Louvre Guard System is either fixed through the face of the window or through a bespoke coupling mullion therefore maintaining the thermal barrier.
The Louvre Guard system had been fully barrier load and impact load tested, and is available with a maximum blade span of 1000mm.
Manufactured from extruded aluminium, the system is fully recyclable and has a lifecycle of more than 40 years.
Barrier Load tested to BS6180
Impact Load tested to EN13049: Vertical Drop Height 950mm (Class 5)
Further Product Resources
Louvre Guard Datasheet
To include in your tender submissions
Download (PDF Document | 1 MB)