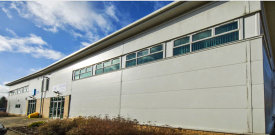 Aluminium fenestration solutions provider Senior Architectural Systems has reopened its distribution centre in Livingston to help support its customers in Scotland as the construction industry makes a cautious return.
The temporary closures of Senior's Livingston branch as a result of the COVID-19 outbreak had led to all customer orders for its aluminium doors, windows and curtain walling systems being handled through its headquarters in Denaby, South Yorkshire. Following the government announcement that non-essential construction activity in Scotland can now resume, Senior has put a number of safety precautions in place so that its dedicated facility in West Lothian can open its doors once again.
As part of its cautious reopening, Senior's Livingston branch is currently operating with a reduced work force to better adhere to the necessary social distancing requirements. Senior is now able to resume its delivery service and new safety procedures have been put in place to enable customers to collect their orders directly from the branch. The Livingston team and its customers will continue to be supported by Senior's manufacturing facility in South Yorkshire, which has been operational throughout the period of disruption caused by coronavirus in order to provide aluminium fenestration products for a number of healthcare and education projects.
Commenting, Senior's Livingston branch manager Louise Ritchie said: "We are very much looking forward to getting back to work and to be able to provide both products and support to our fabricators in Scotland. There will no doubt be more challenges to navigate over the coming months but we are committed to finding a solution that is both safe and effective and to help play our part in helping to get the construction industry in Scotland back to work."
Senior is also able to offer additional support to its fabricator network via Fab Tools, an exclusive online resource available on its website, and through its team of technical sales managers. Architects and main contractors can also access valuable technical information by contacting Senior's architectural advisors who although are currently still working remotely, are fully contactable.