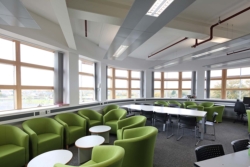 The Building Schools For The Future program has now been all but been committed to history, and whilst the program may have not been as economical for the Government as expected, there are certainly some excellent facilities across the UK for our children and young adults giving them a head start in the world of personal skills and employment. Whilst the BSF Program offered some excellent work for the construction industry, the axing of the Program made many fabricator installers turn their attention to other areas of construction. Here at Senior's we are still being specified on new projects on a regular basis and the work is definitely on the increase.
Late last year the Government committed a further £2.5bn spend on 261 new schools over a five year program with the Government have correctly targeted the worst of the primary and secondary schools in the UK to be part of this urgent program to modernise our school infrastructure.
This new initiative will definitely not be BSF 'Part 2', the Government is laying down some very strong caveats on these new building projects and expects the new schools to be smaller and also more cost effective to build. The Rt. Hon Michael Gove MP, Member of Parliament for Surrey Heath and Secretary of State for Education expects to cut building costs by 30% whilst reducing unnecessary space by 15% thereby saving approximately £6m per school.
Under the new scheme, schools will no longer will be designed by some of the UK's premier architects who inevitably charge high fees, use new costly innovative materials, incorporate elaborate curves and look to win awards for their distinctive design. The new schools are intended to be simple, cost efficient to build and low maintenance. Good strong design principles will win through by offering repeatable structure design using tried and tested system solutions.
At a the recent Council for Aluminium in Building Members meeting in Coventry, architect Ian Harris of Maber Architects outlined their vision for a cost effective and flexible schools solution. They presented a school building as a large well insulated 'shed' style of structure and accommodated within it, a quantity of 52m2 self contained 'pods', all of which become individual learning centres or classrooms. Moveable, these 'pods' are arranged in such a way that there are break-out and circulation areas, but crucially the relocation of 'pods' enables the school to adapt to suit pupil intakes and meet changing curriculum requirements. Essentially, the school is built 'inside out' rather than the traditional visa versa.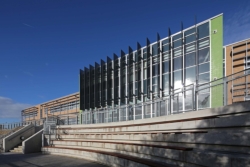 Not just a vision, pioneered by Maber Architects and Norwood in Manchester who manufacture the 'pods', even Apple is using the principle of moveable Pod's by Norwood at their new headquarters in Cupertino, California.
The joint working arrangement between architect and manufacturer is being further encouraged by Government to ensure that design solutions can be repeated over a number of schools, thereby spreading initial design costs. BIM solutions will also play their part on keeping design costs down and the fenestration industry is moving rapidly in this direction to help designers apply product designs to BIM structures in a very efficient way.
The good news for the fenestration industry is that high performance glazed solutions will be required on all these new projects. Reducing the need for artificial light, maintaining good levels of insulation and offering automated natural ventilation solutions, will all be key requirements and, whilst we may not see the extravagance of the past with curved glazed facades and extensive structural glazing, we will see good quality curtain walling, windows and door systems being used.
Refurbishment of existing building stock is also seeing growth, just announced is the LHC launch of a new framework for Schools and Buildings Refurbishment. The new Schools and Community Buildings (SCB1) framework will help public sector bodies access best value, quality solutions for new Projects. The framework includes external works such as roof coverings, windows, doors, cladding, insulation of existing buildings and new extensions to existing schools.
An extra £982m investment in schools in England was unveiled by the Chancellor in the autumn statement which will be released to local authorities through the Targeted Basic Need Programme. At Senior's we are directly supporting our fabricator installers in working directly with the local authority and undertaking external envelope repairs as well as replacing windows doors and curtain walling. Dealing directly between local authority and installer can be very cost effective for the schools budget leaving out the many links within the traditional supply chain.
The key to future development work in the schools sector is the embracing of new technology to improve efficiency, such as BIM, and the need for repeatable good design. I believe the UK Fenestration Industry is rising to meet that challenge with innovative solutions.