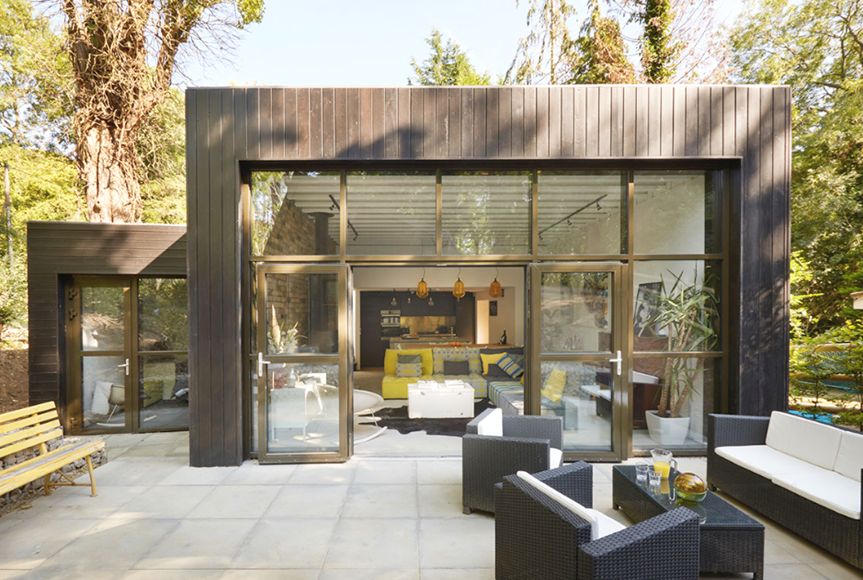 Senior Architectural Systems is well known in the commercial property world for its aluminium fenestration systems. Think shopfronts, schools, offices, hospitals, gyms or supermarkets and you can bet that Senior will be involved somewhere along the way.
But with a huge range of thermally efficient aluminium and Hybrid timber composite windows, doors and curtain walling, Senior is also making a name for itself in the residential market.
Case in point is the latest stunning self-build house to feature on Channel 4's Grand Design hosted by Kevin McCloud.
Glentowy in Billericay Essex is now the dream home of artist and teacher Michelle Parsons and her architect husband David. It took a serious illness to catapult the couple into building the private hideaway that they'd always wanted. After her recovery, what Michelle really yearned for was her own artist's studio in a beautiful setting.
They found an idyllic plot surrounded by trees in the Essex countryside. It was here that they set out to build the sleek, black clad, three-bedroom house and artist studio lovingly designed by David.
In true TV redemption style, the programme followed the trials and tribulations as the couple project managed the construction themselves, overcoming a dangerous gas leak and torrential rain which turned the site into a mud bath.
In a bid for complete privacy, David decided that there would be no windows on the front of the house or down one side, so that no-one could look in. Kevin McCloud ramped up the tension suggesting that their new home could just turn into a gloomy bunker in the glade.
Thankfully it was Senior Architectural Systems to the rescue. Using Senior's innovative PURe® windows, SPW600 doors and SCW+ curtain walling, David was able to shatter the gloom.
Commenting on his choice David said "We both liked the SAS curtain walling system and PURe® windows because of the square, contemporary profile of the sections. Also the PURe® window system was the next level of thermally separated windows giving a better performance than the SPW600s".
Fabricated and installed by Soundcraft Doors and Windows, the glazing systems allowed light to flood into the building, giving it a bright and airy feel, ideal for an artist's studio. In the words of Kevin McCloud "a triumph of light and colour".
And because of the systems' outstanding thermal efficiency – PURe® windows have an innovative thermal break allowing U values as low as 0.71 W/m2K to be achieved – Michelle and David can be confident that their energy bills will be as light as their house!
The full 47 minute program can be viewed here: www.channel4.com/programmes/grand-designs/on-demand/62456-001